COVID has magnified food stress – but we are stepping up.
Across Australia, individuals, small groups, cafes & restaurants, and businesses, are stepping up their support for people facing hunger and food stress.
Foodbank – one of our largest funded, charity food relief organisation details the growth in demand in their National 2020 Report. They also explore the cross generational changes and the reason why people can not access help. [ see below ] Foodbank distributes through a network of 2500 charities, shelters, pop-up shops, and drive through hamper warehouses.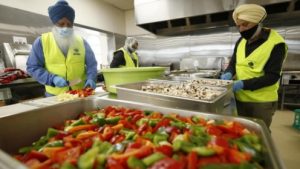 A typical volunteer group is Sikh Volunteers Australia – Melbourne based, but have delivered free vegetarian meals to flood & bushfire victims in NSW and Gippsland, the storm ravaged Yarra Valley, and consistently to refugees and international students in Melbourne. They estimate they have delivered 174,000 meals.
The Street Smart homeless support program also runs Smart Meals, which financially supports food based social enterprises to maintain their kitchens and supply food to those in need. They have a network of 72 partners, including 17 private cafes, and estimate they have provided 194,000 meals ( and saved jobs and delivered training )
And at an individual level, cafes and restaurants across Australia are offering "pay forward" options to their pick-up menus, and deliberately over catering so they have a "paid for" surplus at the end of each day to give away.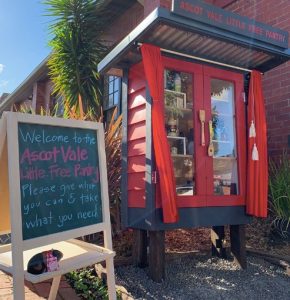 And look for the Little Free Pantry & Food is Free stands in your neighbourhood – these are volunteer run mini-marts of donated food and produce.
---
Food Bank 2020 Report