Electric Vehicle Demos
At Transition Warringal's EV Demos, local residents who have made the transition to electric vehicles share their experiences. You will have the chance to test ride electric bikes and go for a ride on the road in privately owned electric cars. Experience the smooth driving and powerful acceleration!
Read about the local EV owners who present their vehicles at our events and be inspired to take another step towards reducing your footprint.
We also encourage you to attend Renew's annual EV Expo, where visitors can test-drive and ride a diverse range of electric vehicles and get advice from the many exhibitors.
In between demo events, group member Kevin Tory offers individual "tours" of his Tesla S (2016 model). Contact him at kevin [at] skitree.net
Switching from Fossil-fuel to Electric
It's reassuring to know that electric cars, however they are charged, contribute to less climate pollution.
When charged from the grid an electric car will result in around half the CO2 emissions per kilometer driven than the average Australian passenger car.  When the greater emissions resulting from its manufacture are taken into account, EVs emit around one-third less per kilometer.1
Charging from rooftop solar and electric storage further reduces their climate impact. This is what Kevin does (see below).
Switching from Cars to E-Bikes
E-bikes are the most energy efficient form of motorised transport.2 They can also save the average two car household around $10,000 per year by swapping a second car for an e-bike!3
By switching from a car to an e-bike, we save the cost of car ownership, reduce road congestion and get some easy exercise. It's a win-win-win. Several local people have successfully made the switch with a cost-effective e-bike conversion kit from REV Bikes.4
Downsizing Our Transport Needs
Relocalising our lives to support more walking and cycling is at the core of our response to the climate emergency: slowing down and reconnecting with nature.
By sharing resources, including neighbourhood cars, we can reduce our footprint by up to 80% without any loss of liveability.5

Imagine the savings on living costs and the surge in well-being from living locally, switching from cars to e-bikes, and sharing neighbourhood cars! Who's in?
Local EVs presented in our EV Demos
In Transition Warringal's EV demos, local residents who have made the switch to EVs share their story to inspire others to join the transport revolution. See below for details of the local EV owners who present their vehicles at our demos (more stories to come).
Kevin's Tesla S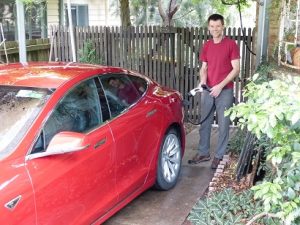 Kevin commutes by bike, skike or public transport and walks to local amenities. For trips out of town to go mountain running, cross country skiing and visiting family, he's always used a car. After two decades of driving a petrol car, he became aware of the developments in EVs when he watched the documentary Who Killed the Electric Car? in 2006. The potential of the technological innovations to meet our society's transport needs without fossil fuels became clear and he began following developments in the sector. Some years later, Tesla Motors announced the release of its passenger car models. Kevin watched the market, and in 2018 purchased a secondhand Model S which has a large enough range to get him wherever he needs to go in south eastern Australia. He's thriving in his new role as a local community EV advocate. The car is charged at home from rooftop solar which covers about 80% of its annual energy needs, the rest coming from the grid, as accredited GreenPower when at home.
Rob's successful e-bike conversion
Bike: Vivente World Randonneur (touring bike)
Conversion kit: Bafang 8FUN 500W mid-drive
Battery: 48 V / 16 Ah
Range: Achieved > 120 km
Features: Colour LCD control panel display, 5 levels of automatic pedal assist, braking cutout, gear shifting cutout, separate throttle for operating motor without pedalling
Modifications: Lekkie Bling Ring (42T chain ring) to achieve desired gearing for the hills in my area
Rob's story:
"I chose the Vivente for long distance bike touring but when a baby came along that was no longer a priority.  I converted the bike to make work commutes more feasible (13 km each way, hilly) and now I also use it for taking my child on the local bike trails.
I rode from Wattle Glen to Geelong on a single charge, and returned the next day on a fresh charge.  That was 120 km each way (mostly via the trail network), with me putting in a fair effort myself and the motor set to 200 W assistance.
Being a mid-drive it is well-suited to hilly terrain.  Wheel-mounted motors don't produce a lot of torque, whereas a mid-drive works through the drivetrain and benefits from the bike's gearing.
I have had three problems with the conversion that have all been fixed under warranty.  This seems like a lot of problems but REV Bikes has been great with their after sales service.  I have done maybe 2,000 km on the bike and have absolutely enjoyed every ride.
The mid-drive conversion limits you to one front chain ring so it's good to have a wide spread on your rear cluster and I recommend picking the right chain ring size.  I think the stock chain ring is too large.  I did calculations to determine the optimum gear for my typical terrain.
My battery is 'LoVo' meaning the charger is configured to not charge the last 10% of capacity.  This increases battery life.  Also the controller on the bike cuts the bike out before you use the bottom 10% of battery capacity.  So in effect I am losing the first and last 10% (20% total) of the battery's capacity in exchange for a longer battery life.  Being a rather large battery I normally get a few decent rides out of it before recharging, so the number of charging cycles is kept low.  Recharging cycles kill batteries.
With a child on the back and only cruising on the bike trails, I keep it on 100 W most of the time.  When riding on the road I find 200 W is ideal.  My steep driveway can be climbed "in the saddle" using 500 W in lowest gear."
1. https://www.solarquotes.com.au/blog/electric-cars-environment-kelly/
2. https://www.drawdown.org/solutions/transport/electric-bikes
3. https://www.racv.com.au/on-the-road/buying-a-car/car-running-costs.html
4. https://rev-electricbikekits.com.au/
5. Michel Bauwens, keynote presentation, MAV Sustainable Communities Summit 2018