Zero Waste Heidelberg and Rosanna
Our vision of a post-transition future includes "Zero Waste Homes" where we have space to enjoy the good life.

Our events — Mending Circles, Decluttering, Green Cleaning, Beeswax Wraps, and Reducing Plastic in Everyday Life — can help you get there one step at a time.
Check our Events and Newsletters for zero waste themed activities.
Composting takes up space, so it has its own page on our website!

We're also affiliated with Reimagine Banyule, where we work on all these topics plus more.
Our favourite films about the plastic pollution problem, which we've enjoyed watching together:
Baykeepers (2014, Australia) available online
Bag It: is your life too plastic? (2010, USA) available on Kanopy via YPRL

Our favourite Australian zero waste blogs:
Treading My Own Path by Lindsay Miles
Gippsland Unwrapped by Tammy Logan
The Rogue Ginger by Erin Rhoads
Search the blogs for answers to all most of your zero waste questions!
Past Events
~ Notes from some of our fun workshops. ~
Green Cleaning
Did you know that water and elbow grease will clean most things?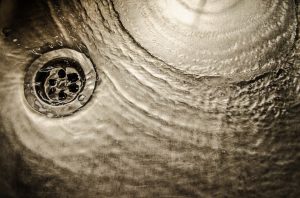 The petrochemical industry expanded rapidly during World War 2. After the end of the war, demand for products dwindled, so they started great advertising campaigns to convince us that we needed all sorts of products to be attractive, successful, and … responsible housekeepers. An array of toxic cleaning products made their way into our homes and since then it has become common for kitchens, bathrooms and laundries to hold shelves of synthetic cleaning products, mostly in plastic bottles.
At our Green Cleaning events, learn tips and tricks for cleaning your body, clothes and home with low cost and low environmental impact. Be inspired to simplify and reconnect with nature!
We use hot water, lemon juice, sea salt, locally made olive oil soap, homemade fruit vinegars, white vinegar, bicarb, citrus peel, essential oils and soapwort to clean almost everything. Cleaning cloths are made from old towels and t-shirts and scrubbers from homegrown loofahs and millet.
Top 3 Green Cleaning Tips
1. Avoid plastic cloths and scrubbers.
Sometimes they are more effective cleaners than natural fibre alternatives, but their broader environmental impacts count them out of the green cleaning routine. If you already have some, consider using them up, then replacing them with upcycled old towels and t-shirts, and bought or homegrown loofahs and millet brushes. A stainless steel scrubber is the next best choice: effective and durable, although very resource intensive.
2. Choose plant-based (i.e. renewable and biodegradable) substances over synthetic.
Citrus juice and peel, essential oils, soapwort and natural vinegars are at the heart of the green cleaning toolkit. Sodium salts (sea salt, bicarb, washing soda, borax) are next on the green cleaning shopping list as they are safe to use sparingly, but be aware that some of these substances are mined and produced industrially.
3. Use less.
Since water will clean most things, try using less cleaning product each time you wash, e.g. clothes, until you find the smallest amount needed to do the job. 'Less is more' protects the land and waterways where our wastewater goes.
Basic Recipes
DIY surface spray(s)
2 cups water + 2 Tbsp castile soap — OR — 1 cup water + 1 cup vinegar
DIY cleaning paste
1 cup bicarb + 2 tsp castile soap + 1 tsp water
Notes:
Made with distilled water, these mixtures will last longer, however tap or tank water has a smaller environmental footprint, so we encourage you to make only as much as you need for a few weeks using tank water.
Essential oils can enhance the products with their pleasant aromas and anti-microbial properties, especially lavender and tea tree.
Don't use vinegar on hardwood, marble or granite!
If you want a spray bottle, consider saving one from a friend's recycle bin rather than buying new.
Good Books from YPRL
Green Clean by Jill Potvin Schoff
Clean Green by Jen Chillingsworth
How to Clean Green by Linda Kita-Bradley
Beeswax Wraps with Jo Massey from EcoOddly
Jo, who is also a member of the Transition 3081 network, shares her sustainable living practice and events at www.facebook.com/ecooddly. Contact her there to purchase beeswax wraps, deodorant paste and toothpowder, or to hear about her upcoming workshops.
Maude Farrugia, writer and illustrator and also a member of the Transition 3081 network, wrote up Jo's technique for making beeswax wraps for Pip magazine here.