Compost Everything!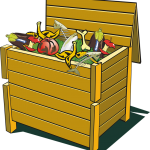 Did you know that nearly half* of all waste produced globally is compostable or biodegradable? Let's compost everything!
Step by step we are working towards our goal of 100% local composting of organic waste.
Look out for composting workshops in our Newsletter and Events. Learn to compost kitchen scraps, garden waste, pet poo and more!
We encourage everyone to consider registering with ShareWaste. People with kitchen scraps can find a neighbour with a composting bin, worm farm or chooks willing to accept their waste. Find out more: https://sharewaste.com/
*Drawdown: 100 solutions to reverse global warming https://www.drawdown.org/solutions/food/composting
Resources:
Bulleen Art and Garden — Composting
City of Hobart — Composting at Home
Sustainability Victoria — Love Food Hate Waste
YPRL — search keyword 'compost'