I is for Indigenous Plants and IPCC
Indigenous Plants
Providing habitat and forage for local fauna, less garden maintenance and connection to place are common reasons local gardeners opt for Indigenous plants. Enjoying the flavours of edible varieties is another great motivation for growing these often underrated plants.
There are thousands of edible plants native to Australia and many grow in Banyule. Some of our favourites include the local apple berry, prickly currant-bush and river mint, and from elsewhere midyim berry, lemon myrtle and macadamia. Learn more about the Indigenous edibles grown by local gardeners by attending workshops by Indigenous Elders, connecting with Transition groups and Friends of parks groups, or simply speak with the gardeners.
Banyule City Council offers a Buy 1 Get 1 Free Indigenous plant voucher, one per household per year.
https://www.banyule.vic.gov.au/Waste-environment/Environment-sustainability/Sustainability-and-stewardship/Indigenous-plants-voucher-program
Here is a local Indigenous plant use guide compiled by By Zena Cumpston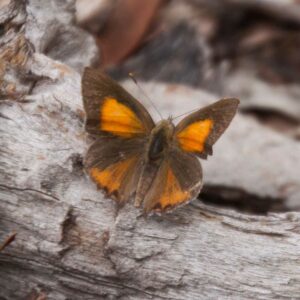 https://nespurban.edu.au/wp-content/uploads/2020/08/Indigenous-plant-use.pdf
The following is a useful guide for attracting birds to your garden.
We often think about planting habitat for the larger birds, but it's also important to plant habitat such as local Indigenous spikey plants, so that the smaller insects and small birds can escape the larger birds and have a safe haven that they can call home. https://www.birdlife.org.au/images/uploads/education_sheets/INFO-Attracting-birds-to-garden.pdf
Here is a video about how Banyule City Council maintains a habitat for the Endangered Eltham Copper Butterfly>
Image description: a photo of the endangered Eltham copper butterfly, it is orange and brown. Image from: https://www.banyule.vic.gov.au/Events-activities/Parks-reserves/Andrew-Yandell-Reserve

IPCC
The IPCC website is a wonderful resource for learning more about the impacts of climate change. The report also reviews the vulnerabilities, "capacities and limits of the natural world and human societies to adapt to climate change". To learn about options and barriers click here. The more informed that we are as individuals, the more empowered we become to advocate for positive change.
Reference: IPCC website 2022: https://www.ipcc.ch/report/ar6/wg2/
Image description: A globe of the world sitting in an adults hands, with a child's hands outreached to receive the globe.