E is for Edible Gardens, Electricity and Earth Buildings
Edible Gardens
Growing up I associated edible gardens with growing lettuce and carrots and other fresh produce that we find in the aisles of our local green grocer. However, as I attended Indigenous led workshops about food, my perception changed. I learnt that many of the common native plants that grow all around us also provide us with the gift of nourishment. Further to this I attended a series of edible weed workshops. It really is incredible that there are so many edible Indigenous plants and introduced weeds that not only provide us with the gift of nourishment but also don't require additional inputs of fertilizer and water. It is exciting when solutions lead to more solutions and a positive feedback loop is formed.
There are more than 4000 Indigenous food/medicine plants that grow here in Australia. Which ones are you growing in your garden?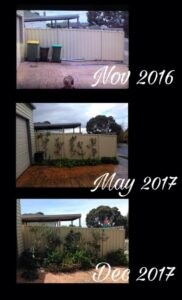 Image on right: A series of 3 pictures taken of the same area at different times. November 2016 shows a concrete driveway with a rubbish, recycling and green bin. May 2017 shows the area of concrete where the bins were located has been removed and a 5 layer food forest utilising mainly Indigenous foods has been planted, there is a community worm farm also. December 2017 shows how quickly the garden established and is providing a lot of food for the occupants and neighbours. This video shows a little more about our journey.
Further resources:
More about local indigenous plants:
Banyule City Council's 2-for-1 Indigenous Plant vouchers
Banyule City Council's Gardens for Wildlife program
More about local weeds: The Weed Forager's Handbook by Adam Grubb and Annie Raser-Rowland
You are invited to explore these people's work if you'd like to discover more Indigenous plant wisdom:
Indigenous Plant Use (pdf, 13.5MB) from https://nespurban.edu.au/platforms/living-pavilion/
Dark Emu by Bruce Pascoe
Braiding Sweetgrass by Robin Wall Kimmerer (listen to the audiobook narrated by the author)
Robin Wall Kimmerer Keynote: Mapping a New Geography of Hope
Contribution by Che
Electricity
Banyule Clean Energy Group is the local community group advocating for zero net carbon emissions in Banyule by 2025 and supporting local residents, businesses and organisations to make informed decisions about rooftop solar, home heating and hot water systems.
If you use energy in your home and want to make it more efficient, you can contact them for expert advice.
Earth Buildings
Growing up, my parents built a house out of rammed earth. It was warm in winter and cool during summer. The angle of the roof was intentional as were the materials utilised (second hand/upcycled). Recently some community members from Banyule helped out to build this earthship at Kinglake.
Are you aware of any local Banyule projects where the building takes into account the surrounding environment, sustainability of materials and energy efficiency?
See also Housing
Contribution by Che