G is for Gifts and Gratitude
Gift giving in a way that doesn't cost the earth is first and foremost a cultural hurdle. Every day we are bombarded with propaganda telling us that purchasing 'new' gifts is a good thing when actually the contrary is true. To help with this cultural shift it is helpful to surround yourself with people who are already in the grove of 'sustainable gift giving'. Join your local transition group, sign up to email groups like 'freecycle' , download the 'Buy Nothing' app. Check in with relatives as to what they need and see if it can be sourced second hand. Bake in leu of buy. Here are a couple of other tips to help get you started:
Consider
organising an agreement with family and friends that you only buy gifts for the children and not for the Adults (who often have all that they need or are able to purchase the things that they need)?
Gifting ideas:
Regift (Tip – only explore this option with friends and family you know will be comfortable with this idea)
Upcycle
Buy preloved items
Buy items made to last, that can be repaired
Buy handmade items
Make your own gifts – sew, crochet, knit, ferment, make jam or chutney, make bath salts, make soap, seeds, seedlings or cuttings.
What skills do you have and how could you use them to make a gift? Perhaps offer a gift voucher gifting your time and/or skill.
#ShopLocal
and support businesses that are either local to you or local to the person you're giving the gift to.
Gift experiences: movie tickets, theatre tickets, go to a Climbing or Trampoline centre (
Latitude Melbourne
), gift a mindful Bushwalk (
Royal Botanic Gardens Victoria
or
Flow Forest Therapy – Leesa Nash
), treat them to a High Tea (
Little Mouse Teahouse
), book in to go Berry picking, buy them a punt on the lake at
Royal Botanic Gardens Victoria
, entry to an exhibition at
National Gallery of Victoria
or
Museums Victoria
.
Gift a membership or subscription:
Zoos Victoria
,
Museums Victoria
,
Banyule Toy Library
membership,
Pip Magazine
subscription,
CSIRO Publishing
Double Helix Magazine subscription, annual membership for the Macleod Organic Community Garden via
Sustainable Macleod
, a season pass for slides
Funfields
, or a digital gift card
Latitude Melbourne
.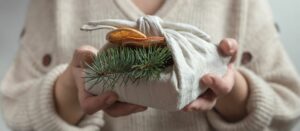 Image description:A white tile background. In the middle of the tile – a photo of a person (wearing a beige jumper) handing the camera a gift wrapped in an off-white cloth Furoshiki style, with a sprig of pine and some dried orange rounds tucked into the top.
Gratitude
How lucky are we to live in Banyule? We have access to absolutely everything we need and much, much more.
Here are a few gratitude practices that we've been considering/practising:
Gratitude at the dinner table – during dinner conversation ask each person to name one thing you are grateful for that day/that you enjoyed that day. Then ask what everyone is looking forward to tomorrow.
Write down what you are grateful for – share your gratitude with friends and family. Some people choose to burn it (symbolising the release of these events and the movement forward to the next year), or pop it in a jar with everyone else's in the family or household with the intention to read them out next year.
Request everyone in the house to write down one thing/quality they're grateful for about each person in the house. Pop these in a jar or bowl. Then on New Years Day read them out. Thereby starting the new year on a positive note.
Make a gratitude flower or tree (links below)
Thankful tree
https://www.youtube.com/watch?v=WcNoq8GL6tY
Gratitude flower
https://blissfulkids.com/mindfulness-for-kids-gratitude…/
More tips and ideas for gratitude practices, if you want to go a little deeper, or are still looking for something that catches your fancy: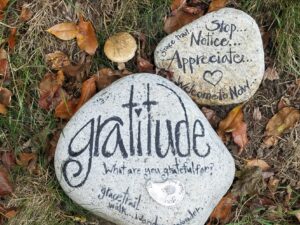 We reckon life contains much less stress when we're aiming for more of a fun-with-friends-and-family feel, and a little less #InstaPerfection feel.
Image description: A photo of two stones on the ground with black text on them. The largest stone has Gratitude written in the centre.
Contribution by Perri Hillier