W is for Water, Women and Waste
Water
I grew up in a rural area along a creek. As a child I remember playing in the crystal clear water, I would go down to the waterhole and drink the most delicious water that I'd ever drunk in my life (just like a kangaroo). It was a dangerous creek, deep and always flowing, 'permanent water for sure' they said, a man had even drowned there. When I was around 8 years old one of the property's upstream was purchased by someone who decided to run cattle on their property. The creek was not fenced off, the cows would come to the creek to drink and defecate in the water while they drunk. I still remember, clear as day, the first time I was drinking when I looked up and saw a huge cow pie floating past my head, a knot of horror and disgust formed in my stomach and I knew that it was no longer safe to drink from there. It wasn't long before there was even more stress on the local water system. Avocado farms started upstream, past where the cattle farmer was, and then a water miner. It didn't take long before the creek stopped flowing, then dried up all together. The local ecosystem was decimated. There were animal caresses everywhere, even dead snakes! It was absolutely heart-breaking.  Some locals fought for the water but ultimately lost. There was apparently no 'law' to protect the basic right to water. While plastic water bottles, avocados, cows and even swimming pools were having their fill, plants and animals including humans downstream were completely dry, paying to truck in water every month just to survive. Years later I was visiting Alice Springs to attend a kinship workshop. On my way home my path crossed with an Indigenous man who mentioned to me that he was thirsty, so I held out my water bottle. He stepped backwards and laughed to try to cover his disgust. I asked him why? Horrified that I didn't know the basic LORE of water, he calmly explained to me that to drink water from anything other than the 'source' is against the LORE. This reminded me of my childhood and made me realise that water should always be drinkable from the source. Do you have a local stream that you can advocate for? What would it take to make this water drinkable again? What part can you play as an individual?
Image description: Kangaroo drinking from a stream.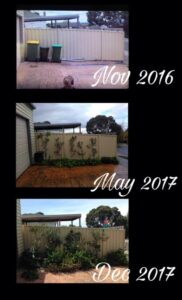 Waste
What is waste?
So often I see a generic definition for waste. In my mind waste could be defined by an almost infinite set of parameters. For example, a few years ago I was looking at the bare patch of concrete lining my driveway and I thought to myself, what a 'waste' of space. We decided to borrow a jack hammer and planted out a food forest style garden by following a technique similar to the one mentioned in this video. 
Every year since we have had access to delicious leafy greens, fruit and berries. The children run out the door early for school just to be able to stop and have a snack along the way. Then there is the wasted space in our house, so we decided to sign up to an online platform called 'helpx' where we'd offer a room in our house to backpackers in exchange for work. Over the years we met so many lovely people and filled our house with meaningful relationships and memories instead of stuff. The definition of waste can be subjective, what is your personal definition of waste?
Image: 3 photos of a cream metal fence with a earth coloured concrete driveway in front of it. There are 3 comparison photos. The first is in November 2016 showing 3 large council bins and no green foliage, the second is in May 2017, the bins have been replaced with a street worm farm, a 5 layer food forest has been planted. The 3rd photo was taken in December 2017, it shows an established and productive edible garden and a worm farm.