T is for Textiles, Transport and Trees
Transport
Walking
For many years I worked at Austin Health and lived in Watsonia. Some days I would catch the train to work then after work I'd walk home to get my daily exercise. It took over an hour but I was happy because I didn't need to pay for gym fees. I really enjoyed watching the gardens as the seasons changed and the slow pace compared to catching the train. Have you considered how many nearby places can you travel to by foot?
Cycling
Energy efficient, low cost, great exercise and fun! There is an online Facebook group called "Banyule Bike Train" if you have specific cycling questions related to cycling in Banyule. The are also some wonderful, safe bike paths and lanes around Banyule if you find cycling with cars intimidating. You may also find it helpful to use an apps like Strava or Komoot to find safer cycling routes to your destination.
Electric bikes
The most energy efficient form of motorised transport. It's still great exercise, even more fun than normal cycling and brings down the fitness barrier if you find the distance or hills for a little too challenging.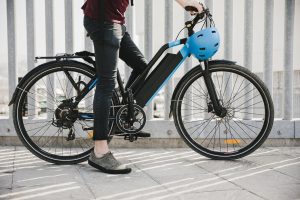 Image description: A person sitting on an electric bike. There is a blue bike helmet draped over the handle bars.
Trees
Have you ever considered how many trees are required for us to breathe? When I became a mother, this was one of the first questions that entered my mind, closely followed by 'why haven't I considered this question before?', and 'why don't we learn about this at school?'. We literally can not survive without trees, so why don't they make up a bigger proportion of our thoughts and day to day routines/lives?
"Can you hear the trees talking? Discovering the hidden life of the forest' by Peter Wohlleben is a wonderful children's book that has taught us some very interesting facts about trees. While written from a northern hemisphere perspective, many of the facts and games/exercises are relevant or easily adapted to here. Peter Wohlleben has also written a fascinating book for adults called 'The Hidden Life of Trees : What They Feel, How They Communicate'. If you don't have the time to read an entire book but would like to answer the question regarding how many trees are required for you to breathe then this is quite a good article.
Image from saytrees.org
Image description: A tree made to look like it is holding a cardboard sign that says: I clean the air you breathe. I can do that for your children too "If you let me live".