I am proud that Hepburn Shire Councillors unanimously voted last month to support the Voice to Parliament and to stand together with Dja Dja Wurrung traditional owners. This is the statement I presented to Council.
As our nation stands at the precipice of a transformative moment, I want to unequivocally express my support for the Voice to Parliament. My decision to vote 'yes' in the forthcoming referendum is deeply anchored in shared principles of justice, equity, and respect for the rights of First Nations people and to stand in solidarity with Dja Dja Wurrung traditional owners.
The Statement from the Heart offers us a profound blueprint for reconciliation: Truth, Treaty, Voice, and the vital aspect of self-determination. To embrace the Voice is to take a step forward, to help ensure that the First Nations' voices are no longer silenced but reverberate and reach deep within the chambers of our nation's decision-making.
Our community is diverse, and the strength of that diversity lies in our ability to engage in thoughtful conversations. As we approach this referendum, let us remember that every conversation we engage in, every dialogue, is an opportunity to deepen our understanding and to bridge gaps, heal country and the hurt that has persisted for far too long.
Racism, at its core, thrives on silence and ignorance. By championing the Voice, we can actively dismantle systemic racism. We acknowledge our nation's history, confront its uncomfortable truths, and most importantly, work towards rectifying the injustices of the past. I understand that for some people, including many in the First Nations community, that Treaty must come first. I too think that Treaty should come first, but I don't think voting 'No' will get us closer to Treaty and Truth.
I urge everyone, irrespective of your political inclinations, to reflect deeply on the importance of this moment.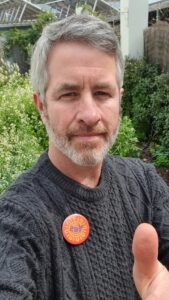 Let us set aside partisan politics and recognise this for what it truly is: a chance for healing, for unity, and for a future where the First Nations people are equal participants in the story of our nation.
As a member of this community and as your representative on Council, I have always believed in and demonstrated the importance of a just, inclusive, and sustainable future. Voting 'yes' for the Voice to Parliament is a monumental step in that direction.
Let's come together. Let's listen, learn, and vote 'yes' for justice and self-determination for our First Nations. In the words of Dja Dja Wurrung Group CEO Rodney Carter, Dja Dja Wurrung are the yes, yes speaking People. Here in central Victoria, we can say 'dja' to the Voice – Yes.
Cr Tim Drylie
Hepburn Shire
September 2023
Links to explore: