Transition Australia Victorian Convergence: Networks for Action
-- THIS EVENT HAS ALREADY OCCURED --
Sunday 15th of September 2019 9:00 am
Our world, our country and our communities face some serious challenges not just now but in the future. The Transition Australia 'Networks to Action' Convergence is a chance to honestly acknowledge both the scope of the challenge but also the opportunities that we already have at our disposal. It's about coming together to share, build and energise each other for the journey to a more just and sustainable future. More importantly this convergence is about asking the key questions:
How can we work together to bring authentic and powerful change to our communities?
How can we build inter-dependence rather than isolation or competition?
Who is out there and what lessons can we learn from each other?
How can we showcase the work we do to change the narrative from business as usual?
What is a convergence?
A convergence is a chance to come together; to share stories of success, stories of challenge and to find the strength to face the hurdles of the present and future not independently, but interdependently
Who should attend this convergence?
Transition culture is open and inclusive so if you are an individual or a group interested in working together to inspire, connect and build a sustainable, resilient and just future then this event is for you.
What sort of things happen at convergences?
Convergences are a balance of expert and participant run sessions that are designed to help attendees learn, connect and above all find energy and resilient through interdependence. We use a range of approaches including open space technology to make sure that the conversations that you want to have are the ones that are included.
Videos from the Transition Convergence in 2016
When
Sunday 15th of September 2019
9:00 am to 5:00 pm
Where
RMIT Storey Hall, Swanston St
Melbourne, VIC 3000
Contact
Paul Shelton
events@transitionaustralia.net

Event/Ticketing Links
https://www.trybooking.com/BEIBU

Affiliated Groups
Permaculture Victoria, Sustain: The National Food Network, Cohousing Australia, Beyond Zero Emissions, New Economy Network Australia, Extinction Rebellion.
Areas of Interest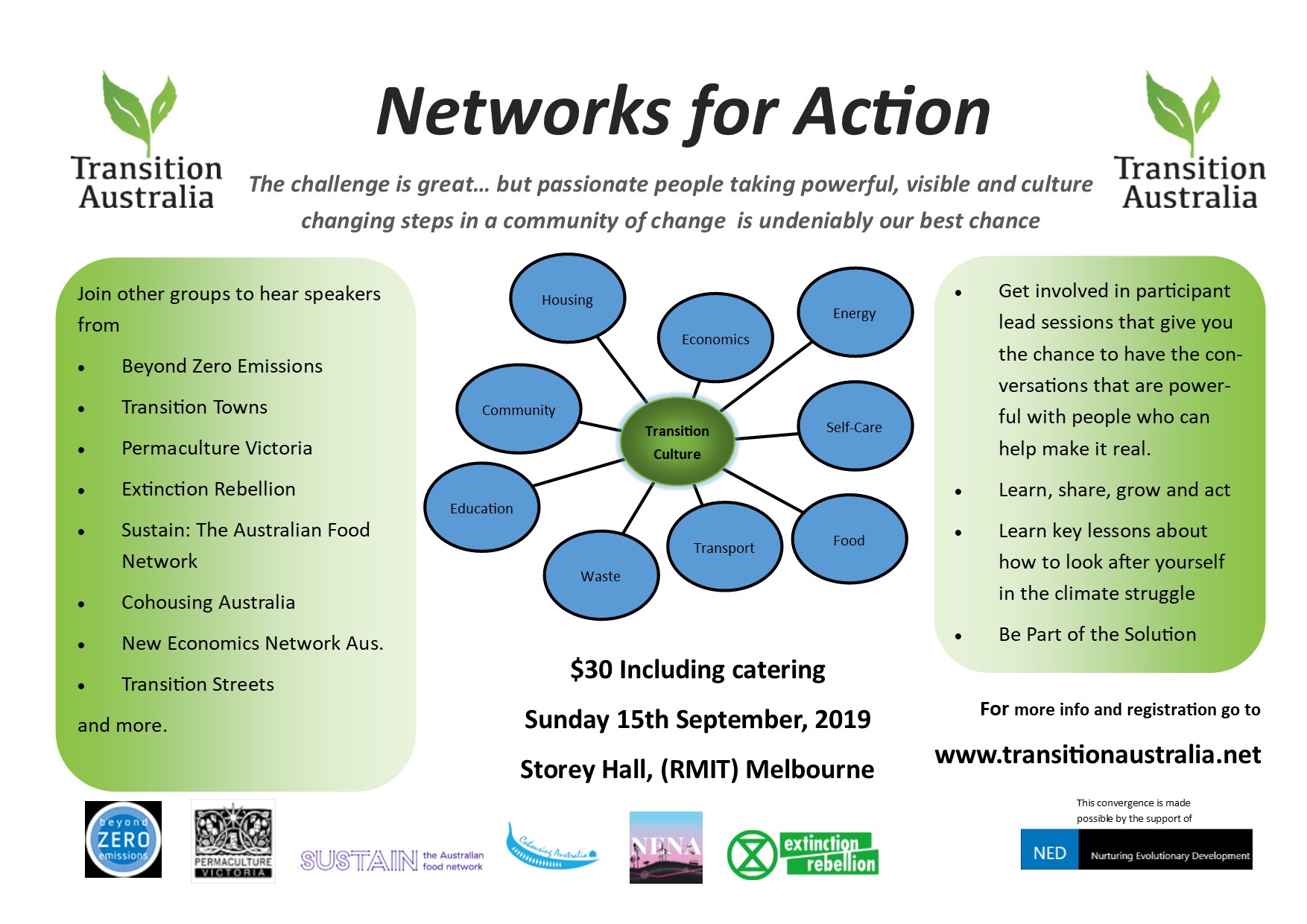 -37.8091968
144.96403599999996