Peter Singer & Kym Peake: Ethics of government behaviour change
-- THIS EVENT HAS ALREADY OCCURED --
Wednesday 18th of July 2018 6:00 pm
REGISTRATIONS ARE CLOSED
Ticket sales have ended, however there is a waitlist available. Please subscribe to our newsletter to stay up to date with other upcoming events.
DESCRIPTION
The ethics of government behaviour change programs: A conversation with Peter Singer and Kym Peake
Governments are expanding their toolkit on ways to influence our behaviour in positive but subtle ways.
Techniques tested by behavioural scientists underpin campaigns encouraging us to improve our health, save the environment and make the world a safer and more equitable place.
They may be well-intentioned, but are there ethical limits to using these behaviour change techniques? Is nudging citizens for their own good considered manipulation or an obligation? Are there some techniques that should never be used, and where exactly, do we draw the line?
Join world-renowned philosopher, Professor Peter Singer,and the Secretary of Victoria's Department of Health and Human Services, Kym Peake, as they discuss and debate whether governments have the right, or the obligation, to change our behaviour for our own good and if so, what tools are appropriate.
This very special event will be moderated by Associate Professor Liam Smith, Director of BehaviourWorks Australia – Monash Sustainable Development Institute'sbehaviour change unit.
Please note
Bookings are essential.
Doors will open at 5:30pm, the event will commence at 6pm sharp.
By attending this event, you agree to be photographed and/or filmed and give permission to use your likeness in educational or promotional materials.
When
Wednesday 18th of July 2018
6:00 pm to 7:00 pm
Where
The Hotel Windsor (Bourke Room), 111 Spring St
Melbourne, 3000
Contact
Monash Sustainable Development Institute

Event/Ticketing Links
https://www.eventbrite.com.au/e/peter-singer-kym-peake-ethics-of-government-behaviour-change-programs-tickets-46959909353?aff=efbneb
https://www.monash.edu/sustainable-development
Areas of Interest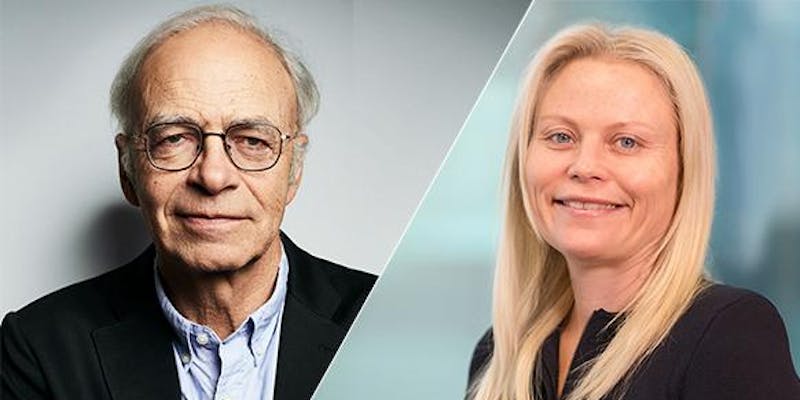 -37.8119732
144.97303179999994