The Transition Streets program has really taken off in Geelong, with at least 8 groups so far and growing. Here is Monica's story of how it all started.

At the beginning of 2017 I was feeling burned out. I had been a founding member of Geelong Sustainability and on the committee for 5.5 years and had organised a host of events and courses over a 9 year period including 4 years of Coordinating Sustainable House Day in Geelong, Running 2 Permaculture Design Certificate Courses in Geelong for the first time, running Changing The Dream Symposiums with Phil, writing and co teaching Eat Your Garden courses as well as a number of Introduction to Permaculture courses.
I needed some time out from all of this. I was also struggling with how we were going to recruit many more people to deal with these global issues and what my role would be and how to make it manageable.
And then one of Geelong's two holistic vets, Dr Saranyu Pearson, did something extraordinary. Part of her daily training involves running around the streets of Geelong from her home in Hamlyn Heights. Having been captivated by the idea of planting a food forest in her own garden, Saranyu couldn't help but notice how big the gardens were that she was running past daily and came up with the idea of a community of urban edible forest gardens in her street.
She spontaneously acted on this by creating a letter outlining her vision and leafleting about 200 homes in her street and nearby inviting people to join her in this. This culminated in her facilitating 10 households to meet together at a local Vietnamese cafe to chat about what they might do. Most had never met each other but had lots to share.
Hearing about this great initiative, I asked if I could come along and was accepted.
A few months before, in 2016, Phil Baulch, Wendy Matthews, Goshen Watts and other committee members of Transition South Barwon had invited Mary Stringer to Belmont Library in Geelong to present on Transition Streets to members of Transition South Barwon and the general public in an event called Join the Dots. Phil did an in-depth presentation of the current context we're in to set the scene as to why we really need to implement change.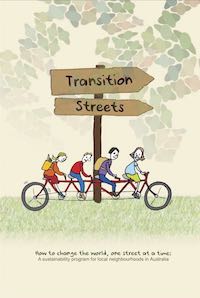 Mary followed with a presentation about the Transition Streets workbook and told stories about what had come out of the project she was involved with and at the end invited people to take one of the copies she'd brought if we thought we might start one.
I did take one of the 180 page Transition Street workbooks as I loved the smallness of it, and didn't do anything with it for a while. I was done with initiating and maintaining the energy to run a large group, courses and events even though I found them stimulating and relevant and met many amazing people.
I was in a reflective space, just waiting for it to become obvious what my next step would be. I felt unsettled but had decided not to act until it was clear.
Saranyu and her group provided that catalyst. They began the first group in Geelong, Transition Street McCurdy Rd.
They were a wonderful group of mainly women and one man, with a diverse mix of high level skills, training and experience. Some owned their own homes and some rented. Some lived in a large home with a garden whilst another lived in a small unit with a small courtyard. One person was in the process of renovating their home for sale and planned to leave Victoria within a few months as soon as they could as life here didn't hold much interest for them.
They had so much enthusiasm to create things together and were already a group so I asked Saranyu what she thought about inviting them to incorporate their edible garden plans into a bigger initiative called Transition Streets. She had a history of innovating and leading in her veterinary work and was doing a great job leading this group in a really low key, consultative way. She thought it best that we present the idea to the group and so we did and the group decided to go for it.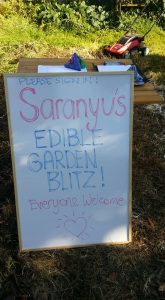 I explained that Transition initiatives grew out of permaculture and at some stage the group might go for funding and that I could run an introduction to permaculture for them focused on edible forest garden design. Within a very short time, one member of the group who had been planning to leave Victoria asap and had been feeling quite isolated prior to becoming involved in the group, donated the funds so that everyone could do this. That member did the course and is still in the group a year later and not planning on moving now for some months at least and has expressed what a joy it has been learning new things and meeting such wonderful people. As many in the group meditate in one form or another, we started some of our permaculture sessions with a short meditation which brought us all together energetically and seemed quite transformative for some who'd not done it before.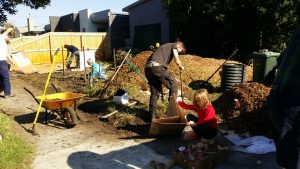 Since the beginning, the group has been so inspired, they have been off to do a host of courses, attend events, join groups, met socially in between meetings, helped each other out as the need or desire arose, lent equipment to each other, all in between getting back to reading chapters of the Transition Streets book and taking on challenges. One member who lived alone and had no-one to care for them previously, had an accident and ended up in hospital. A number of the group members visited them in hospital and were received with much gratitude.
Saranyu has accompanied me to visit local MP's to engage their support with success. She has also attended other events like Green Drinks organised by Geelong Sustainability where she talked to people thinking of starting a group in Geelong West about all the benefits. It must have had a positive impact as, soon after they formed their group. In fact we had a fun competition going about whether their group or the one I was gathering members for in my street in Belmont, would have their first meeting first. They won.
Saranyu continues to support the establishment of new groups by making herself available to speak casually and publicly at events and continues to act as a kind and considerate facilitator and organiser for the group even though many members are also organisers in other areas of their lives.
She is a heart centred person who has an easy, relaxed style that works a treat and is having a lot of fun creating her garden.
There are now 8 Transition Street groups in Geelong; in Herne Hill/Hamlyn Heights, Highton, Belmont, Norlane and two in Geelong West, with more to come. We have received a $6,000 grant from the Department of Environment & Sustainability, City of Greater Geelong to further the development and support for new groups.
More about Dr Saranyu Pearson: past and founding President of Integrative Veterinarians Australia (Australian Veterinary Association), a member of International Association of Veterinary Homeopaths, a member of British Association of Homeopathic Veterinarians and a Member by examination of the London Faculty of Homeopathy.
Saranyu is also a long time Sri Chimney meditator (and from him I had received "encouragement to follow my intuition and the dictates of my heart"). She organises an annual Peace Run for meditators in the region. Regular running is part of the recommended spiritual practice by Sri Chinmoy and Saranyu took it further by becoming a triathelete.
Monica Winston, Geelong Sustainability