Are you involved with a community organisation, social enterprise or other not-for-profit group?
Such organisations are invited to apply for a zero-interest loan to help fund climate-beneficial projects anywhere in Australia such as:
installing solar panels

improving energy efficiency

switching away from fossil gas use or

purchasing electric vehicles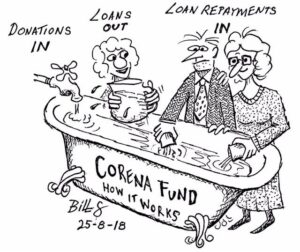 Who is behind this wonderful offer?
CORENA – a non-profit organisation focused on helping community organisations deliver projects that achieve immediate reductions in carbon emissions and costs.
The public donate the funds and you receive independent advice on reducing energy bills and a zero-interest loan to fund your project.
Many groups find this much easier than a grant as the process is not competitive and CORENA are able to assist the group to develop a good project.
The resultant savings on energy/fuel bills cover the loan repayments which CORENA re-invests to help other community organisations.
This means you can do your part to help tackle the climate emergency without diverting any of your budget away from delivering services to your community.
And when your project has 'paid for itself' you'll have lower operating costs, meaning more money available for your core purpose.
One of the earliest projects was a solar panels installation for Moss Vale community garden in NSW.
A more recent project is an electric delivery van for Ceres Fair Food in Victoria.
Other examples are :
15KW Solar installation for Parkholme Community Child Care in SA

Marlin Coast Neighbourhood Centre in Qld

Walpole Community Resource Centre in WA and

Coast FM Wynyard community radio studio in Tas.
On the CORENA website scroll to Completed Projects for full details of these projects and more.
For more information see corenafund.org.au
Compiled by editors from information supplied by Sarah McCabe at CORENA

June 2022