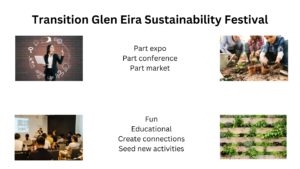 The climate crisis requires individuals, businesses, not-for-profit organisations and governments to cooperatively adopt energy descent plans and actions.
The concepts within Permaculture's Ethics and Principles offer the best approach, using the Transition Towns Network Framework to reduce dependency on fossil fuels, which is in line with those of a Circular Economy.
Transition Glen Eira (TGE), a local community group, was set up as an educational and event collaborator. The mission is to establish an annual Sustainability Festival with the possibility of satellite events within Glen Eira in the long term.
The purpose of the Festival is to engage people living, working and studying within Glen Eira to better understand and adopt more sustainable lifestyle practices. It will enable community groups and Council to showcase their activities. Council's Sustainability Team will be instrumental to support the promotion of the activities to the community to increase participation and engage people to adopt satellite activities.
The key to the success and longevity of the Festival is cooperation and collaboration — harnessing the willingness of sustainability-focused groups and businesses to support the event by getting involved and/or funding its existence.
We are not sure yet when or where the Festival will be held.
If you are willing to be part of an organising committee for our Sustainability Festival, then please fill out this form.
If you have an activity or group that you wish to run/showcase at our Sustainability Festival, then please fill in this form.
If you wish to suggest a venue for our Sustainability Festival, then please fill out this form.
We look forward to welcoming you to our group.