We know that sustainable living is more than just about growing fruit and veggies, but providing our own local, organically grown food using Permaculture principles is not only intensely satisfying it also makes great economic and environmental sense. We live on 600m2 in Sydney's greater west and for years I would contribute to the family larder by growing vegetables but what this meant generally was:
Cultivate like mad each spring using a petrol powered rotary hoe
Buy in lots of manure (primarily chook and horse), spread it around and dig in
Buy in a load of straw and mulch everything in sight
Buy in a load of seedlings and plant everything in sight.
The result of this fevered action was a trickle of vegetables into summer, a glut of just about everything in mid to late summer and then little else from then through to the next spring when the whole thing started again. There had to be a better way!
Seven Innovations
Over time I implemented a series of innovations that has made us much more self reliant and reduced our costs and environmental impact at the same time.
Developing a Sowing Plan
I needed to be able to provide a mix of veggies for us throughout the year and to do that I needed to develop a sowing plan that showed me how much of what veggies to plant when. Seeing as nothing like that existed that I could find at the time, I developed my own.
I got hold of seed catalogues from producers of open pollinated heritage seeds and scoured them to work out what varieties suit our climate and when to sow them. Over the years we have experimented with different varieties of some of the vegetables to spread our growing season. I then worked out (guessed really) how much of each vegetable we wanted to plant at each time.
Then, to develop a sowing plan, I worked out how often we needed to sow/plant out our veggies, based on twice monthly sowings and drew up a matrix with the name and variety of each veggie we wanted to grow down one side and when they were to be sown across the top.
Putting in the Plots
We have seven 1.2 metre x 2 metre and Seven 1.2 metre x 3 metre veggie plots and the plan that I developed allows us to plant one out twice monthly, so that if you were to come to visit at any time of the year you would find plots producing veggies, plots growing up getting ready to produce, plots freshly planted out and plots ready for the chooks.
Raising Seedlings
We make our own seed raising mixture based on one part coarse sand, two parts worm castings and three parts cocopeat. This is placed into eight compartment punnets, one type of veggie in each compartment. A label finishes the process off.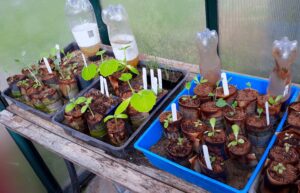 The full punnets are placed in a cat litter tray half full of damp sand to keep them moist and left in the greenhouse for about two weeks. Once the seedlings are up and at the four leaf stage they are potted on into newspaper pots filled with the same seed raising mix. They stay in the greenhouse for two to four weeks.
Installing the Chooks
For many years we had chooks in a dedicated chook pen, but after reading about the Permaculture way of doing things we decided to put a chook tractor together so that the chooks could dig over and manure the plots for us, while still providing wonderful eggs. I built the tractor from scratch; it is A-frame in shape and has the same footprint as the veggie patches with the bottom surrounded by chook wire and the enclosed top housing laying and roosting areas.
Saving our Seed
This closes the loop and means that we can develop our own seed varieties over time that are adapted to our climatic conditions. I started out with the bigger easier seeds like peas, beans and corn but then graduated to the biennials like carrots and onions and the promiscuous ones like brassicas.
Veggie bed covers  
I noticed the increasing difficulty of getting a decent harvest during January and February some years ago and started fooling around with shade covers for the veggie bed. The shade covers use 50% shade cloth to knock the intensity of the sun back, allowing the plants to grow and reducing their need for water in the hot weather.
Olla Irrigation 
Ollas are unglazed terracotta pots, buried in the ground up to their neck, and kept full of water. The water seeps slowly into the ground keeping the veggies moist easily and efficiently. They can either be made from scratch using pottery techniques, then fired or built up using bought in commercial terracotta pots. We have a mix of both.
With a bit of time and effort and some land it IS possible to provide most of your veggie needs, I know because for the past 15 years we have been doing it!
More details on how we do things is available at – http://www.underthechokotree.com/
Nevin Sweeney
August 2022