Transition Margaret River

Learn More
https://transitiontmr.wordpress.com/
https://www.facebook.com/TransitionMargaretRiver/
Address
PO Box 1742
Margaret River, WA 6285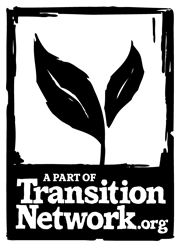 Contact Information
transitionmargaretriver@gmail.com
408092404
---
About Us
Building resilience, sustainability and community in the Margaret River region
Transition Margaret River is a grass-roots community group, part of the worldwide Transition Network, a community-led local approach to creating a more sustainable, resilient, happier society in the face of challenges in today's world, especially climate change, economic uncertainty and unsustainable resource use. Transition Margaret River celebrated our 10th birthday in 2022.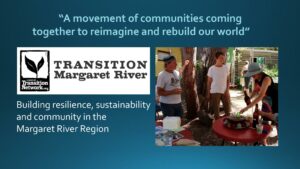 Where are we?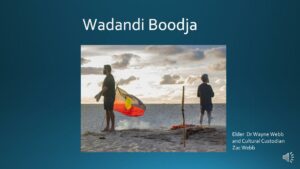 Wadandi Boodja, in south west Australia, home of the Saltwater people. We acknowledge their continuing leadership in caring for country and pay respects to their elders past present, present and emerging.
We live in a beautiful and biodiverse region and we face a range of challenges including bushfires, climate change impacts, environmental damage through clearing, development, weeds and ferals, and a shortage of housing.
Who are we?
Our ages range from teens to nineties. Occupations include farmers, academics, professionals, tradies, business employees, vignerons, artists, teachers, students, retirees and more. We come from diverse, multicultural backgrounds. Several of us are involved with the Augusta Margaret River Shire Council (AMRSC) and have positions in other groups, e.g., Margaret River Regional Environment Centre.

We share a commitment to building ways of living that are more connected, more enriching and that recognise the biological and physical limits of the Margaret River Region, and the planet. 
What is our focus?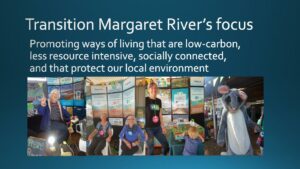 Our focus is holistic and wide-ranging rather than narrowing in on a particular issue which provides opportunities for many people to engage in their special interests. It's also the basis for the wide range of partnerships that underlie everything we do. Each year we adopt a theme in addition to our wider activities. This gives us a focus for our Seminars and other events.
Key themes are:
climate change mitigation and adaptation,
community building,
food (local, 'swap, shuffle, share', organic, permaculture, regenerative agriculture, food hubs, food sovereignty),
energy (renewable energy, conservation),
waste (reduction, plastic-free, composting, recycling),
water (conservation and water sensitive design),
transport (electric vehicles, sustainable transport, walkable towns),
sustainable living (housing, development, Living Smart, lifestyles)
peace and social justice.
What do we do?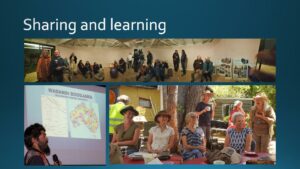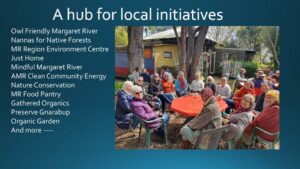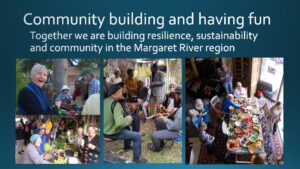 Transition Margaret River is creating a more connected, sustainable community by:
(i) Bringing diverse people together in a welcoming environment e.g. every last Saturday morning of the month at the Margaret River Organic Garden we share an open round-table sharing of news and events.
(ii) Raising awareness e.g. monthly e-newsletter to ~ 700 people and groups, Facebook, media, events, films.
(iii) Networking, sharing information, discussion e.g. films, sustainability seminars.
(iv) Partnerships e.g. Sustainability Seminars are held in partnership with Curtin University and the Augusta Margaret River Shire. The Organic Garden and the Undalup Association – our Wadandi partners – are key players. The Shire is often a funding supporter. We worked closely with the Chamber of Commerce and the Shire for a full year localism program in 2020. Two Margaret River Peace Weekends with the Medical Association for Prevention of War and local Amnesty group included speakers on issues ranging from nuclear threats to personal refugee stories, taking our thinking beyond transition's local focus.
(v) Sharing practical skills and resources.
(vii) Community events e.g. coordinating annual 'Love where you live' Sustainability Pavilion at the Margaret River Agricultural Show until COVID-19 intervened.
(viii) Taking part in local planning e.g. submissions on sustainability aspects of local developments and Council plans.
(ix) Building a sense of community, celebrating, special events e.g. end-of-year celebrations, Margaret River Peace Weekend
(x) Promoting local community initiatives e.g. Just Home, Margaret River Community Pantry, Living Smart, Sustainable House Day, nature conservation.
(xi) Promoting local models of best practice such as the Witchcliffe Ecovillage and involving media celebrities like Gardening Australia's Josh Byrne to encourage people to "live lightly" involving changing values and practices.
You can find out more about us with examples of our activities in the slide show below.
Email transitionmargaretriver@gmail.com to subscribe to our free monthly email newsletter.
Everyone is welcome at our coffee mornings and events.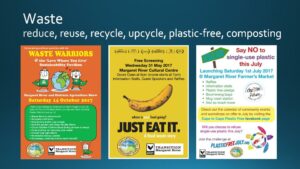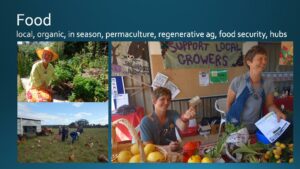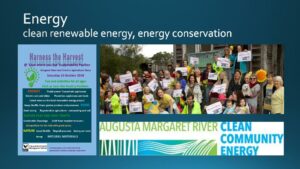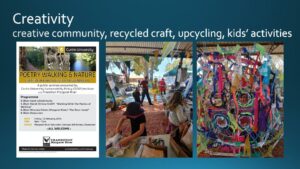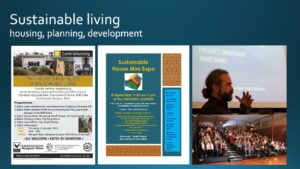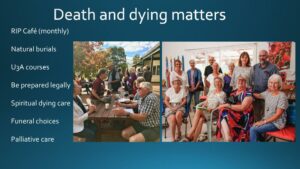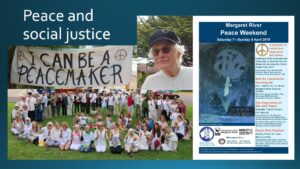 Areas of Interest