The Active Hope free online video-based course is proving to be a great resource for "How to face the mess we are in without going crazy" and indeed to strengthen your ability to create the change we want to see in the world.
You can do the whole course on your own, in your own time.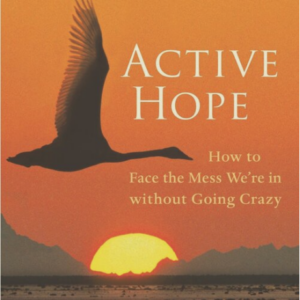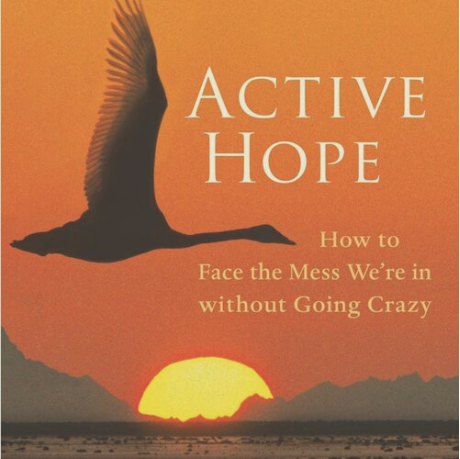 Or you can do it and try out the suggested practices with others. That is what some of us are doing by getting together fortnightly for an Active Hope group.
A video we all watched together, online, and could watch again and again is this 5-minute video of Joanna Macy speaking about Gratitude as a Revolutionary Act.
Here are some key quotes from the video:
beginning in gratitude is so grounding, it's so strengthening….you can turn to gratitude at any moment, … all it takes is for you to think about it … because the great open secret is it is not dependent on external circumstances.
it brings you freedom from the industrial growth society… if you see things in a new way and it contradicts the predominant message of the consumer society, which is you're not good enough, you're not smart enough, you don't have enough. And you don't have enough money. You don't have a new enough car. You don't have the latest kind of microwave… So that this whole society … breeds profound dissatisfaction.
[a 20-year-old Sri Lankan training village worker said] …this market system, this global economy, these corporations, this fast food, these McDonald's … telling us that we need things… It makes us feel inferior. It can make our people feel inferior … infecting people with this virus of needing to acquire, acquire and put themselves in debt and put themselves in bondage to acquire junk stuff they don't need.
so this gratitude work… is liberating. And it is subversive.  [you can] help people realise… that they are sufficient and that means they can be free.
These concepts are part of what we in the transition movement call Inner Transition.
We invite you to watch this video any time you feel despair about the world. It's a great reminder of our power to ground ourselves in gratitude before going on to face the pain, agony, anger, numbness etc that we may well be feeling when we think of our concerns for the world.
To practice gratitude, alone, or with a journal, or with a friend, or even at the beginning of any meeting, some great sentence starters are "I love …." or "something I deeply appreciate is …" or "I really treasure ….." or "I want to thank ….." or "I feel deep gratitude in my heart for …..". You can think of other sentence starters in the same vein.
You can also, if you wish:
Mary Stringer
website editor team
April 2022