Melbourne Repair Cafe monthly repair session
-- THIS EVENT HAS ALREADY OCCURED --
Sunday 8th of July 2018 10:00 am
The Melbourne Repair Cafe holds monthly repair sessions where volunteer fixers show you how to fix your broken or torn stuff for free. We also hold a "really really free market" where you can gift your good stuff, talents, skills and services. We have tea and coffee at the community centre and welcome baked or other nibbles to share!
**Please try and limit what you bring to 1 item per person for repair and arrive before 12.30 to allow time for repair before we close up at 1pm. You can bring more but please note that you'll have to re-join the queue after the first item is seen. In some cases, there may not be time to fix more than the one item – though we'll try our best in the time we have, while ensuring everyone has a fair go with at least one item of choice.
Also note that we may not be able to complete complex fixes, which are generally those that either take more than a half hour to complete or which require parts or tools that are not available on site.
As mentioned, in addition to our usual repairs of clothes, bikes and broken household goods, we will again be hosting a "really really free market" (RRFM) on the day.
So, not only can you bring your broken stuff to learn how to repair for free, but you're also invited to bring your unwanted things (in good nick) to give away along with any skills, talents, services or knowledge you want to share – say, cut hair, master the art of juggling, play a song, share tips on moving towards zero waste. You don't have to bring something to take or learn something. We trust that everyone's generosity is paid forward.
Both the repair cafe and the RRFM aim to keep stuff in use and out of landfill while also providing a low-key face-to-face opportunity to meet and chat with others in the community. So come down to the Yarraville Community Centre to learn repair skills, share stuff, meet friendly folk and have a cuppa and a chat!
If you'd like to volunteer as a fixer or helper, visit the Get Involved page at http://www.melbournerepaircafe.org/ Or join our community of fixers at http://www.meetup.com/MelbourneRepairCafe/.
If you'd like to give stuff away you're welcome to come down a bit early (say 9:45am) to set up. Musicians, jugglers, storytellers and others happy to share their talents are welcome throughout the day! Just show up. If you want, you can post on Facebook that you're coming, or you can message me (Michelle Fisher) about what you're bringing or sharing.
To learn more about the RRFM concept, check out https://en.wikipedia.org/wiki/Really_Really_Free_Market. You can also check out local RRFM initiatives like Give.Take.Stand in Laverton, Morwell Free Store and Really Really Free Market – Bendigo.
Excess useable goods that are not reclaimed or taken by others by the end of the repair session will be donated to charity.
GETTING THERE: If you're travelling by public transport, you can catch the 409 bus from Yarraville or Footscray train station – it's a 5 or 8 minute trip to the corner of Stephen and Francis Street (opp the community centre). There's also a carpark adjoining the community centre and free parking in the surrounding streets.
The Melbourne Repair Cafe is an initiative of Transition Town Maribyrnong under the umbrella of the Repair Café International (http://repaircafe.org/en).
When
Sunday 8th of July 2018
10:00 am to 1:00 pm
Where
Yarraville Community Centre, 59 Francis Street
Yarraville, VIC 3013
Contact
Michelle Fisher
melbournerepaircafe@gmail.com

Event/Ticketing Links
https://www.facebook.com/groups/melbournerepaircafe/events/

Affiliated Groups
Transition Town Maribyrnong, Melbourne Repair Cafe
Areas of Interest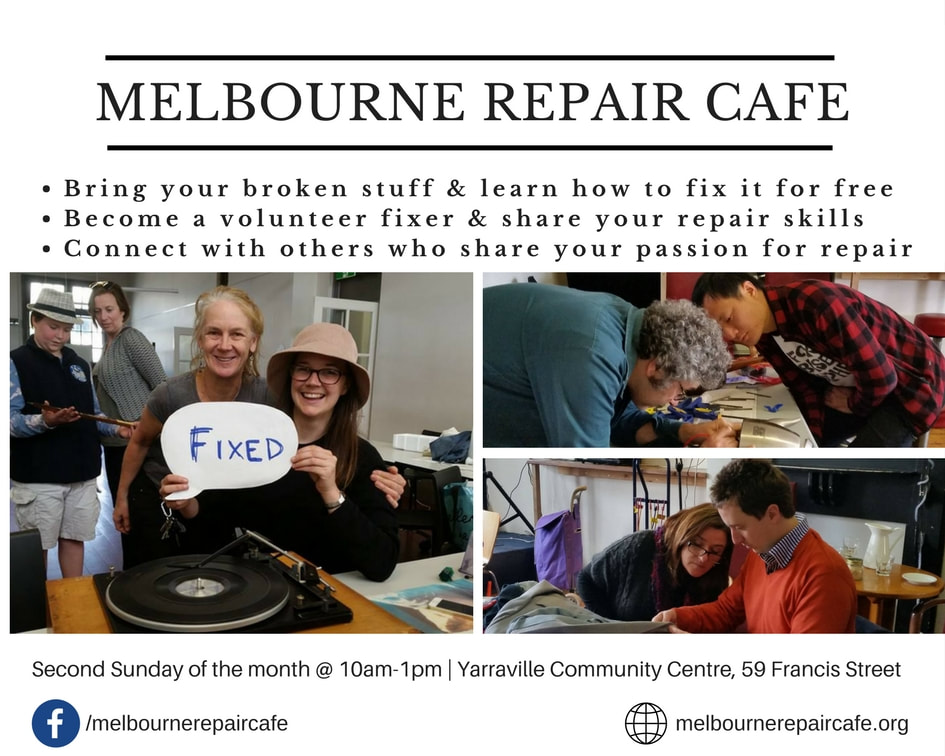 -37.8217412
144.89279940000006