Electrify Boroondara is an inner Melbourne, community-led alliance dedicated to accelerating the transition to a clean energy future.
Their goal is to inspire the community to electrify through adding solar panels, limiting heat loss and gain in buildings, and by swapping gas appliances and petrol or diesel-powered vehicles for efficient, electric alternatives powered by clean energy.
The alliance includes service organisations, local churches, schools, universities, climate and environment groups, and industry partners,  and is supported by the City of Boroondara.
They are educating and informing their community about energy efficiency and electrification to save money, improve health and comfort and create a safer climate.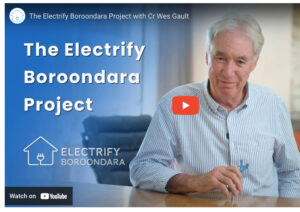 The website – https://electrifyboroondara.org/ includes videos of people who are making the switch, a detailed guide to electrification, and numerous resources & related links.
They ran a large public Expo in early October 2023 attended by over 1200 people, with significant prizes from their sponsors.
Incidently, the planning of the Expo made use of the earlier Moonee Valley Sustainability EV Expo planning and running sheets – proof that collaboration is key!