470 parts per million. What would life be like at that level of C02 in the atmosphere? 470 brilliantly imagines this world, in the particular context of Byron Bay and its hinterland in northern New South Wales.
This novel is set barely ten years into the future, scarily close to the present. Is it a dystopian or utopian future? Probably a bit of each. The unravelling of civilisation across the globe as a result of climate disasters is so realistically portrayed, you can feel the wind in your face.
It is scary and confronting, but hopeful, especially for the young and fit who know how to provide for themselves, and how to work and live with other people, even if they're not the people they'd naturally choose to live with. But there's a place for older people, and those with different skills as well, when they are prepared to live cooperatively.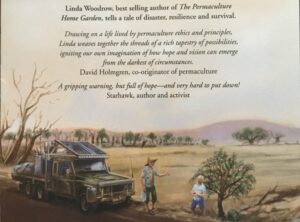 I decided to read 470, despite some misgivings, because I had stumbled on the book launch online, with David Holmgren and Su Dennett.* They were clearly very impressed by it – so much so that they'd decided Melliodora would publish the book, despite a general policy not to publish fiction.
I still had some misgivings, because I knew it would be didactic, and that is always a worry with a novel. I have read – or more likely, started to read and abandoned – some horrors. Sometimes a highly intelligent writer and scholar, who has written well on their area, ventures into fiction and it's a disaster.
Not so with 470. As the novel progresses, the characters develop, the plot takes off and it's hard to put down. I've just re-read it a year later and enjoyed it as much as the first time, if not more. I am missing that world!
Linda Woodrow, author of the long popular The Permaculture Home Garden (first published in 1996), knows her permaculture, knows about climate change and also, critically, knows human beings. Her psychological insight is excellent. This is a significant part of why the novel works as a novel and not just as a lesson in how to survive the future.
The author makes no judgements on her interesting set of characters of all ages and differing values – she just paints them and lets the reader decide what to think. There are also moments of drama or deep emotion, where she resists the temptation to make any comment. The absence of words as these times is potent.
The richness of this novel comes of course from Linda's deep knowledge about growing food and self-sufficiency on the land. It is permaculture in practice in a disintegrating world. Highly recommended.
*View "The Role of Imagination in Creating Change" taken from the book launch: https://melliodora.com/catalogue/470/  or the whole thing at https://www.youtube.com/watch?v=4PBsva0XDBw
Jan Down
September 2022