Welcome to COHOUSING AUSTRALIA
A civil society co-operative, comprising of and supporting individuals, groups, communities, academics, advocates, professionals, and you, to expand the collaborative housing sector in Australia.
Welcome, find out more, contact us, become a member, and join the community.
What is Cohousing?
Cohousing is a sustainable and affordable approach to living in community. Cohousing communities are intentional communities, with people seeking out a community feel to their home lives. They are created and run by their residents cooperating to create better lives. Each household has a self-contained, private home as well as shared community space. Residents come together to manage their community, share activities, and regularly eat together.
As lives become more stressful, Cohousing is a way of resolving the isolation many people experience today and providing for a sense of community. Cohousing communities can be intergenerational, welcoming anyone of any age and any family structure, or specifically cater for people who are older or are communities of common interest or needs. The size and scale of cohousing is appropriate to support community dynamics for easy informal communal contact: usually between 8-50 households.
Cohousing Australia supports a range of urban and suburban collaborative housing typologies. Cohousing Australia does not advocate for a singular housing typology, legal or financial structure.
With an emphasis on social interaction, environmental sustainability and accessible design, cohousing can provide an attractive housing alternative.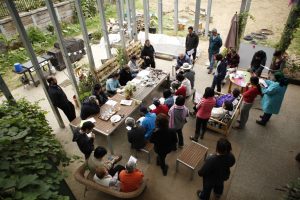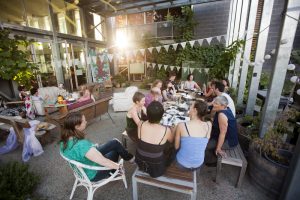 Photos: Chris Grose 
Join Cohousing Australia:
Become a member today and help us continue to support individuals, forming groups, established communities, partner organisations, and the sector to diversify the housing market and support the development of more collaborative and cohousing projects.
We are a cooperative. When you become a member you become a shareholder and have rights and responsibilities to participate and contribute. Read our rules here.
Types of membership
Individual membership is a one-off $5 shareholder fee + $35 annual fee, or $25 concession.
You can also join as a community group (as a forming group or an existing cohousing community).
Email us: info@cohousing.org.au
Intentional, collaborative, and cohousing communities in Australia 
Map Key:

Forming Group & Site Search

Design & Town Planning

Under Construction 

  Existing Communities 
To join the map email us!
Cohousing Australia has an important role in bringing the wisdom from overseas models, and integrating it with the local (multi-)cultural and indigenous wisdom to make it locally attuned and responsive to the Australian context. Alternative ownership, stewardship, and governance models, as well as a reimagining of the intergenerational and community lifestyles we lived, until only the recent past, provide an option to the individualistic, competitive, nature of housing and living many are forced to adopt today. We look forward to the continued evolution of the organisation and community living in this country.
Cohousing Australia acknowledges the climate emergency and biodiversity emergency as the context in which we work to create systems, processes, and practices that afford us the greatest potential to mitigate and adapt and create a regenerative and prosperous future for all our human and non-human kin.  

Cohousing Australia acknowledges and pays respect to the past, present and future Traditional Custodians and Elders of this nation and the continuation of culture, community, and stewardship practices of Aboriginal and Torres Strait Islander peoples.