100 steps towards a plastic-free life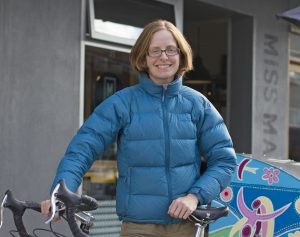 By Transition Warringal core group member Penelope Grose
"I've been assessing my "plastic footprint" and taking steps to reduce it. This is my record of attempting to deplastify my life (originally posted on social media in 2015; much has changed since then as we've deepened our connection with nature and simplified our lives further).
Also check out Beth Terry's blog http://myplasticfreelife.com/plasticfreeguide/ and Lindsay Miles' blog treadingmyownpath.com for more inspiration.
BEFORE: Our 80L landfill bin was filled once a year; 240L recycling bin filled every 9 months
AFTER: landfill bin filled every few years (estimated); recycling bin filled every 12-15 months
I corresponded with the suppliers of products I buy/use to request they go plastic-free too. Could you do the same? They'll change when enough people ask.
I intend to continue using all my useful plastic stuff for as long as it lasts.
The decision to register for Plastic Free July and to take it further by working to deplastify my life has increased my resolve to say no to plastic. Now I say no with confidence, compromise mindfully, and searching for alternatives is fun."
Shopping (general)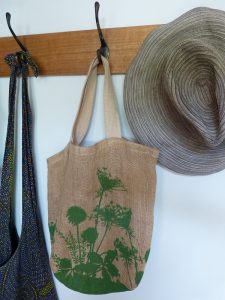 1. Shopping bags.
We have a lovely assortment of shopping bags hanging around the kitchen and front hall. My favourite is this one called 'The Grocer' by Apple Green Duck. Made from jute, it'll last longer than all our cotton or polypropylene ones. When it wears out, I'll mend it. When it wears out completely, I'll compost it. This is a better alternative to "green bags" that are made from polypropylene (plastic). While using green bags is much better than single use plastic bags, and while polypropylene is recyclable, it is much better to avoid plastic altogether. 'Refuse' is right up there at the top of the waste minimisation hierarchy, and 'recycle' is nearer the bottom.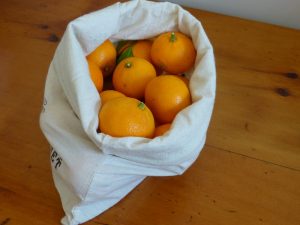 2. Cloth produce bags.
Reusing dry goods sacks and making bags from worn out clothes prolongs their useful life.
3. Shop at Farmers Markets.
Eltham Farmers Market organised by Local Food Connect is currently my main supplier of fresh produce when our garden isn't producing bountifully. Of course, I get to use my own bags and the fruit doesn't have those annoying plastic stickers. I also buy fresh food from CERES Fair Food and organic greengrocers in my area.
4. Buy in bulk.
Olive oil, rolled oats, rain-fed brown rice, chick peas, lentils, beans, polenta, nuts, flour and sea salt bought in bulk reduces the amount of packaging needed. Discovering that some paper sacks are in fact lined with a thin film of plastic was disappointing. Also, tossing up between local, organic and plastic-free options felt like a dilemma. I just continue to ask primary producers to use organic methods and for users of plastic packaging to switch to plastic-free. It would be great to see cotton sugar sack dresses make a comeback!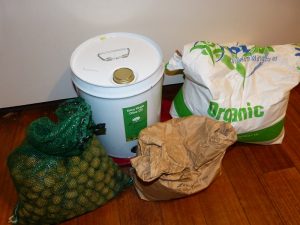 5. Share bulk buying with others, or use bulk bins.
Sunflower seeds, pine nuts, sesame seeds, cinnamon sticks – the dry goods I don't use in large quantities.
6. Request zero plastic packaging when ordering online.
Some sellers have a "minimal plastic packaging policy", so if I want entirely plastic-free packaging, I usually need to ask. I did ask one such supplier to help me with the Plastic Free July challenge and they did, by keeping their cellophane bags. The only packaging was the Postpak Tough Bag.
7. Choose second hand or recycled.
Although I prefer plastic-free fabrics, I have bought from op shops: a polyester dress; a lycra bikini; and a few cotton items with elastane.
I used to buy Earth Choice laundry liquid, which comes in a recycled plastic bottle.
My compost bins and storage box for camping/sport equipment are made from 100% recycled plastic.
Someone offered me their old plastic-coated metal garden arch, which I accepted.
We refashioned our old polyester velvet curtains into new thermal curtains for improved energy efficiency.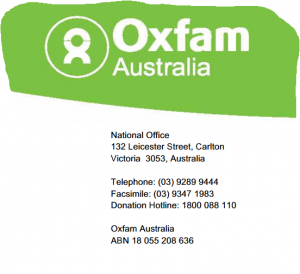 8. Charity merchandise.
I say no to plastic merchandise and donate directly to charitable organisations such as this one.
Food (not home-grown, bought from the farmers market or in bulk)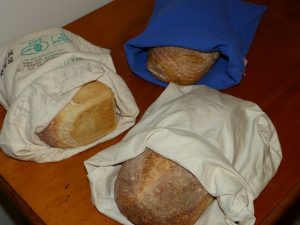 1. Plastic-free bread.
We love sourdough bread. Our household often goes through a loaf a day! For years, I've been buying it from bakers and grocers who supply it in a brown paper bag, or from the supermarket in plastic bags with plastic ties. Unfortunately, it used to be mostly from the supermarket, because that was more convenient. We justified these purchases by reusing the bags – for packing sandwiches, lining the kitchen bin, or picking up our dog's poo at the park. I reused the paper bags several times – first for more loaves, then as lunch bags, then as compost bucket liners as they gradually wore out. Getting to my preferred bakeries a couple of times a week can be tricky, which has shown me that going plastic-free requires good time management! My bread bags are 1) a calico brown rice sack, 2) an organic cotton bed linen sack, and 3) a repurposed spare tea towel.
2. Meat in my own containers.
Butchers know they need to tare the scales to subtract the weight of the containers. I'm still using the 5 plastic containers we acquired many years ago. If I ever need new containers, I'll choose plastic-free ones.
3. Avoid frozen foods.
I don't buy frozen products because of the energy required to freeze them, and to keep them frozen in transit, and at the shop and at home. Also, frozen foods, such as many frozen desserts, are highly processed, which we're told is unhealthy, and according to Chinese dietetics, eating chilled food weakens the immune system. The plastic packaging is just another reason to give it a miss. On rare occasions I indulge in a frozen treat when out-and-about, because they can be fun, can't they? At the moment our freezer is full of avocado pips (for dyeing fabric) and leftover pumpkin soup.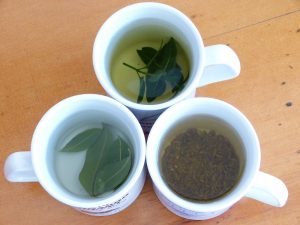 4. Tea.
We used to maintain a selection of green and herbal teabags. Then I discovered most teabags contain plastic, not only those that are obviously plastic like those "silk" pyramid ones. That explained why I'm always plucking them out of the garden; they don't biodegrade in the compost. We now settle for home-grown herbal infusions – chocolate mint, lemon myrtle, fennel seed and more. I intend to plant some licorice, which is the main ingredient in my all-time favourite herbal tea bag blend, whose manila hemp bags contain a polyamide epichlorohydrin based resin as a wet strength agent. Delicious both!
5. Drinks in glass bottles.
For special occasions, I indulge in fruit juice and mineral water. My favourite drink is 'apfelschorle'. I choose glass bottles, which I've reused here for storing spring water and apple cider vinegar.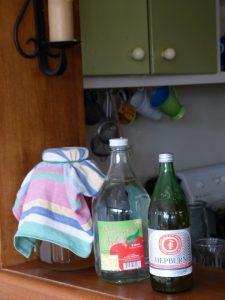 I think I've always been aware that plastic bottles are bad for the environment and our health, however I hadn't realised quite how bad until I saw Story of Stuff's short film The Story of Bottled Water http://storyofstuff.org/movies/story-of-bottled-water/ and the story on Catalyst about unsafe synthetic chemicals http://www.abc.net.au/catalyst/stories/4207313.htm. The numbers that stuck in my memory were a million and five: "each year, making the plastic water bottles used in the U.S. takes enough oil and energy to fuel a million cars" and "exposure to endocrine disruptors [is] associated with a five-point decrement in IQ" (across a population). Wow!
6. Condiments in glass.
Soy sauce, Worcestershire sauce and a neighbour's homemade miso paste. I've found it increasingly difficult to get such items plastic-free. It seems that only the small volume products of many brands are still bottled in glass. Let's write to all the food manufacturers to request plastic-free packaging!
7. Treats: chocolate and cocoa.
Many years ago I regularly ate biscuits and jubes out of a packet (for energy while out hiking or ski touring), and dutifully stockpiled the packaging for recycling. I slowed down my consumption when I cut down on cane sugar and now that I'm going plastic-free, I'm no longer tempted. Cocoa Rhapsody's 72% organic and fairly traded cocoa, palm oil free, paper-foil wrapped and locally made (in Coburg) chocolate is my favourite treat for special occasions.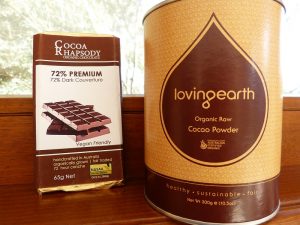 I've also sometimes enjoyed hot cocoa and I've confirmed that Loving Earth's organic raw cacao powder 300g package is plastic-free and that I can refill it at The Source Bulk Foods. Phew!
UPDATE: drinking chocolate is one more item that I've given up since 2015
8. Vitamins and minerals.
I occasionally take vitamin and mineral supplements, which seem to always come in plastic bottles or packets. I was thrilled to find a calcium and magnesium product in glass. Of course, I'd be even happier if it was refillable.
UPDATE: I now consume egg shell for its minerals: peel away the membrane, wash thoroughly by simmering to eliminate the risk of Salmonella poisoning, grind in a mortar and pestle and mix into food.
Food and drink out and about.
1. Lunch and takeaway food in my own containers.
I have a collection of stainless steel and old plastic containers. They are easy to pack into my bag when heading out. Getting served can be problematic in places where staff are ignorant of food handling regulations, although most places will allow you to take leftovers home in your own containers. I'd love to own some watertight stainless steel containers for taking leftover curries for lunch. For now, I re-use a glass jar.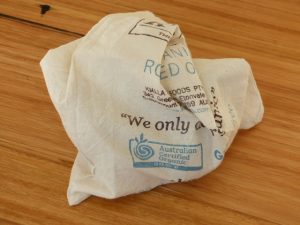 2. Cloth sandwich and snack bags.
This one is an old small grain sack.
3. No takeaway drinks.
I sit in a café to enjoy a herbal tea. I've never acquired a reusable cup as I've never needed one. Coffee connoisseurs assure me that coffee doesn't taste as good in a plastic cup anyway. I bought juice from a juice bar once and was disappointed when it arrived in a plastic-lined cup with plastic lid and plastic drinking straw. I had assumed it being healthy unprocessed nutritious food that it would be served in a tall glass! Next time, I'll request that.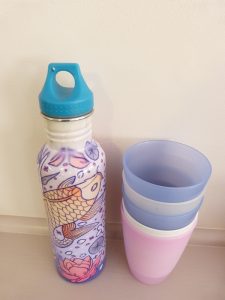 4. Refuse bottled water.
I used to accept bottled water at events, such as sporting competitions, conferences and parties, if that was the only drink on offer. Deciding to thoroughly deplastify my life has firmed up my resolve to refuse drinks served in single-use plastic. I now take one of our old second hand plastic picnic cups or my stainless steel water bottle for drinks at events. To manufacture a single-use plastic bottle, one third of the capacity of the bottle in crude oil is consumed, and up to another third is consumed to transport the final product. How ridiculous!
5. Carry reusable utensils.
This is a set of stainless steel cutlery from our cutlery drawer wrapped in an old tea towel tied with an old ribbon. Someone who travels a lot might choose to buy new reusable lightweight (wooden or bamboo) cutlery. I take these to work or when out for takeaway lunch. Some people choose plastic-free drinking straws too – made from either straw, bamboo, glass, or stainless steel. I'm able to drink straight from a glass.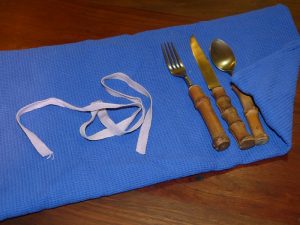 6. Request no plastic drinking straw.
Since I'm able to drink from a glass, I request no drinking straw (and no ice) when I occasionally order a cool drink at a café or restaurant. (Except that the last two times I forgot, so I'm considering giving up ordering drinks!)
In the kitchen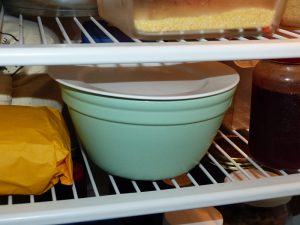 1. Leftovers.
I store leftovers in bowls with a plate on top, or in a glass jar. Excess home grown fruit goes in glass jars in the freezer.
2. Preserved food in reused glass jars.
Dried home grown herbs are in the pantry. Homemade sauerkraut is in the fridge. Homemade tamarillo chutney is in the store room. (No diced tomatoes this year.) This avoids some plastic packaging and plastic-lined cans. And it's a great use for all those glass jars we've accumulated.
3. Cook from scratch.
Tomato sauce, salad dressing, soup stock, almond milk, chutney, mustard, hommus, baba ganoush, walnut muffins, banana cake, sesame slice, dry biscuits, kombucha, hawthorn berry sauce and more are prepared from scratch in our kitchen. Yes, it does take time, but it's fun and rewarding, and tastes great. Some of these items can be bought without plastic, however attempting to go plastic-free has inspired me to reduce all packaging.
UPDATE: Before Plastic Free July inspired me in 2014 to cut our household waste towards zero, we were filling our recycling bin every 9 months. Now that we've cut most packaging, we take more than a year to fill it.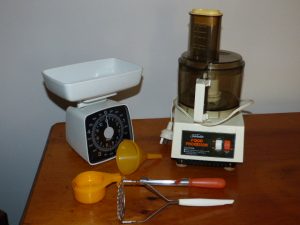 4. Second hand plastic kitchen stuff.
This is most of my second hand plastic kitchen stuff. I also have some picnic cups, plates and some other cutlery that aren't in the photo. If the food processor breaks down and can't be repaired, I intend to do without it. If my plastic ice cube trays ever wear out, they could be replaced with stainless steel ones. However, since I'm not a big ice-block consumer, and stainless steel is a limited resource, I'll do without them. I suspect I could also live without the rest of the items in this picture.
5. Kettle.
Fifteen years ago we chose an electric kettle with the least plastic we could find. I grew up with an electric stainless steel kettle that was close to plastic-free – only the plug was an old hard type of plastic. I'm wondering if they're made anymore.
6. Salad spinner.
I've never owned a salad spinner. I learnt as a child to spin rinsed lettuce outside in a clean tea towel. Beth Terry's blog post about discovering this low-tech approach to drying salad leaves left me wondering what other thrifty living tips I'm yet to learn.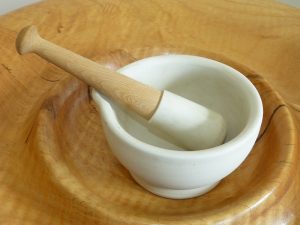 7. Salt grinder.
We used to have a salt grinder, whose plastic mechanism didn't last many years. I now use our mortar and pestle for that job.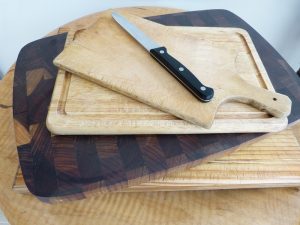 8. Chopping boards.
All wooden.
9. Glass stuff.
A citrus juicer, a measuring cup and some Pyrex dishes.
10. Bin liner.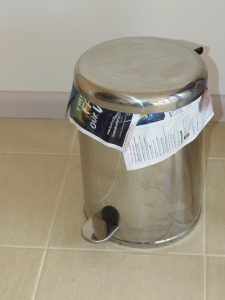 The kitchen rubbish bin is lined with pages from a local paper. Composting food waste keeps moist material out of the kitchen bin, so it doesn't need to be lined with plastic. (By the way, I chose compost bins made in Australia from 100% recycled plastic.)
Cleaning
1. Clean with vinegar and bicarb soda.
I used to buy industrial white vinegar in 2L plastic bottles from the supermarket. I went to buy it in glass a few months ago, but I was too late – the brand that used to use glass has switched to plastic. For now, I'm getting by with my own apple cider vinegar made from juicing apples bought at the farmers market. The pH is higher than that of white vinegar, so it might not be as effective. Bicarb comes in a cardboard box. I'm still looking for eucalyptus oil and tea tree oil in plastic-free bulk containers.
UPDATE: I now clean surfaces with confidence with only homemade apple cider vinegar. This article from ABC News describes the steps for cleaning our homes without nasty substances: https://www.abc.net.au/news/health/2018-01-12/does-vinegar-really-kill-household-germs/8806878
2. Washing dishes.
We make liquid soap from a cake of soap plus washing and bicarb soda. We use water that's not too hot for our hands, so we don't need rubber gloves. We scrub the dishes with a wooden dish brush with natural bristles and a scourer made from coconut fibre. Cleaning cloths are made from old towels. We're still using the microfibre cloths that came from a local "sustainability" workshop years ago.
UPDATE: We now use just soap in a "swisher" to wash the dishes and we are growing loofahs to use as scrubbers to replace the dish brush.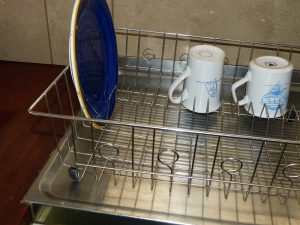 3. Dish rack
No plastic coating.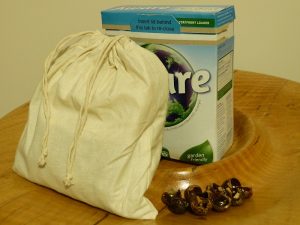 4. Laundry soap.
We currently use a laundry powder that comes without a plastic scoop in every pack. The powder is also garden safe and palm oil free, along with other 'green' credentials.
We also have soap nuts which I use for washing woollens and bathing the dog. Unfortunately, they came in a plastic bag hidden within their calico sack. Next time I need some, I'll choose a brand which comes without plastic. For stain removal, we use bicarb (in a cardboard box) and eucalyptus oil (in a bulk plastic container bought before my plastic-free phase).
5. Laundry baskets.
These two are woven from plant material. I have in mind to develop my basket weaving skills such that I can replace these myself whenever they wear out.
6. Clothes pegs.
Most come packaged in plastic; bamboo ones come in a cardboard box.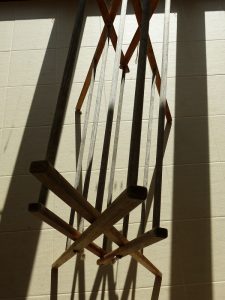 7. Clothes horse.
Old wooden one; no plastic coating here.
8. Ironing board cover.
When the original synthetic one wore out, I sewed a new one from hemp fabric.
9. Mop.
Cotton head on a wooden handle.
10. Broom.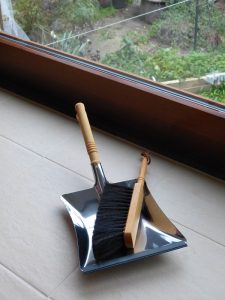 Wooden head and handle with natural bristles.
11. Dust pan and hand brush.
Bathroom
1. Avoid plastic microbeads.
I don't think I've ever bought products with plastic beads in them, always having chosen products that are at least promoted as natural, organic or healthy. I'm signing every petition I come across to push manufacturers to stop using them. From time to time I scrub my skin with ground adzuki beans.
UPDATE: The Department of the Environment and Energy is working with industry and state and territory governments to ensure a voluntary phase-out of microbeads from personal care and cosmetic products. Keep signing petitions!
2. Hand soap in a bar, not a bottle.
We use cakes of soap rather than liquid soap in a pump bottle. Many years ago, I learned about the Sydney soap wattle when I went on the Aboriginal Heritage Walk at the Sydney Botanic Gardens. You rub the leaves with a little water and they lather up just enough to wash your hands. If I was certain that the species would not spread rapidly through my area (weed-like), I'd plant one in my garden and keep a supply of leaves beside the bathroom basin and kitchen sink.
3. Hair shampoo and conditioner. 
I can't believe that I heard only last year (2014) about using rye flour to wash hair. Over many years I've tried so many alternatives to conventional shampoo, starting in my teens with velvet soap rinsed out with white vinegar, which didn't produce great results. Rye flour is biodegradable and renewable, but bicarb is easier to rinse out; both are effective. I use one or the other then rinse my hair with diluted homemade apple cider vinegar. My hair now looks better than it used to.
4. Deodorant.
After years of trying out alternatives to conventional anti-perspirant deodorant, I found one based on coconut oil that works and is almost plastic-free. I store it in a reused pharmaceutical bottle. It contains coconut oil, bicarb soda, arrowroot flour and (optional) essential oil. One day, I might try making my own arrowroot flour from the edible canna in the garden. I'm also looking out for jars of coconut oil without plastic around the lid. I buy the one from my supermarket which has the least plastic and I've asked the company to use paper tape instead.
5. Moisturiser in glass jars.
I have one general purpose skin moisturiser, made locally by Sharon from hemp oil. In the past, I sometimes used different moisturisers for face and body. Although I didn't need them, I enjoyed the different essential oil aromas. I didn't know that women used dedicated shaving gels until I started reading people's minimalism/decluttering blogs! I used to use just water; now I use a bit of my general purpose moisturiser with the water.
6. Metal razor.
This year, my last plastic razor reached the end of its life. I'd bought it in a multi-pack more than 15 years ago and made them all last – because they're made from plastic – by not shaving very often! This new one was made in Germany and the storage pouch is leather. I asked the Australian distributor to post it plastic-free. It came with a plastic invoice envelope, plastic tape all over the cardboard packaging, the moulded plastic form inside the box that I'd clearly said I didn't want, and plastic fridge magnets. I photographed this stuff then posted it all back along with a strongly worded letter.
7. Toothbrushes.
I've read that Australians use and discard around 30 million toothbrushes per year! This one has a bamboo handle and biodegradable nylon-4 bristles. My old plastic one took replaceable heads and the handle is still good after about ten years. Used handles make good seedling labels.
8. Toothpaste.
I've prepared a coconut oil based toothpaste for Kevin, who has no dental issues, presumably due to tough tooth enamel. My teeth are sensitive, so after trying several homemade and commercial 'natural' toothpastes, I'm sticking with at least occasional use of conventional toothpaste for now.
UPDATE: I'm now very happy with the toothpowder I make from ingredients with minimal packaging. The key ingredient is bentonite clay, which remineralises the teeth to keep them healthy.
9. Dental floss.
No plastic box! However, there is a small plastic bag inside, and plastic seals on the outside. On the back it says that up to 700 million plastic floss containers are discarded each year! My next step will be to twist my own floss from organic silk threads.
10. Nail brush.
I can't recall where we got ours from. It's wooden with natural bristles.
11. Toilet paper.
Who Gives a Crap toilet paper is packaged in paper and cardboard. I've asked them to use paper tape, rather than plastic, to seal their boxes. I use old organic cotton menstrual cloths to wipe a wee. I believe there isn't enough waste paper to supply us all with post-consumer waste recycled toilet paper. Newspaper and some leaves are said to be good alternatives, if you are willing to go the extra mile.
12. Menstrual pads and cups.
I used to use organic cotton cloth pads at night and organic cotton tampons during the day, which I composted. I now use a menstrual cup, which can be removed, rinsed and reinserted every 12 hours and washed after each month's use. I chose the Australian made model – Juju. It comes in a synthetic cloth pouch, but no other plastic packaging. I've requested that they change to a natural fibre cloth pouch, or at least make this one optional.
13. Hairbrush.
Bamboo handle and bristles.
14. Natural remedies.
When I make cough syrup and itchy bite salve, they go in reused glass jars, while Classic Tiger Balm still comes in a glass jar with a metal lid.
15. Cotton wool.
More than enough to meet our needs comes in the top of a few pharmaceutical bottles.
Dog
1. Dog collar.
Leather with metal buckle.
2. Dog bowls.
Stainless steel or ceramic.
3. Dog food.
Dry food bought in bulk from the distributor (until the business closed this year L) and stored in a secondhand container. He also eats raw meaty bones from the butcher (bought in my own container), barley (bulk), eggs, baked vegetables, or a serve of our dinner. He's particularly fond of pumpkin.
4. Dog bed from second hand stuff.
A second hand half-moon seat cushion and the polyester-cotton sheets I had as a child. No new plastic.
5. Dog jacket.
Made from an old polyester doona that someone was throwing away, a reused plastic button, and old cotton fabric. Again, no new plastic.
6. Dog poo "bags".
We pick up our dog's poo at the park with newspaper and compost it in a dedicated bin, spreading the resulting humus around garden trees. These are folded sheets ready to go.
In my home office
1. Pens.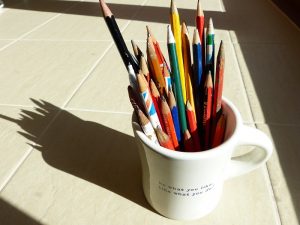 Occasionally I need to sign something with a blue or black pen. Most of the time a pencil will do. I have an old fountain pen that uses ink from a bottle. I'm yet to search for ink bottles without plastic caps.
2. Ring binders.
I used to have vinyl covered binders that I bought from op shops. I've gradually replaced them with recycled board ones to meet all my filing needs and donated the vinyl ones back.
3. Drawing pins and paper clips.
I've stuck with the old fashioned plastic-free styles.
4. Mail.
We have a No Junk Mail sticker; removed ourselves from mailing lists; unsubscribed from magazines that come in a plastic envelope and; call charities that send "gifts" to request they don't, then send them back to make the message clear.
5. Chunky crayons.
Used instead of marker pens for recording ideas on poster paper at community group meetings.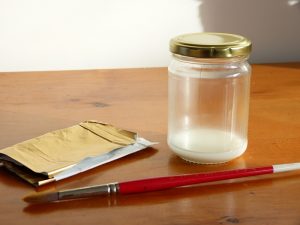 6. Homemade glue.
Wheat paste. It works on paper, so I don't need a glue stick.
7. No new CDs or DVDs.
I've always avoided CDs and DVDs because they're made of plastic. I must have succumbed to temptation several times, because I've bought 10 CDs and 2 DVDs (and received a few more as gifts). Both the DVDs and two of the CDs came packaged in cardboard covers rather than plastic. We watch movies on SBS On Demand on Kevin's laptop and go to the cinema or a live music performance a few times a year.
8. Fewer electronics.
I've never owned a mobile phone or tablet, mainly because of ethical issues associated with their manufacture. I'd barely thought about the plastic in them before I started assessing my plastic footprint. We don't own any gaming equipment. Kevin kindly shares his laptop with me, which should have a long life because it's an Ultrabook with a robust solid state drive. There's also a shared landline telephone. Kevin owns a camera, which I can borrow.
9. Household batteries.
EcoAlkaline (heavy metal free) batteries in plastic blister packs or Varta conventional alkaline batteries in bulk in cardboard boxes? I've bought both and asked EcoAlkaline to switch to cardboard boxes.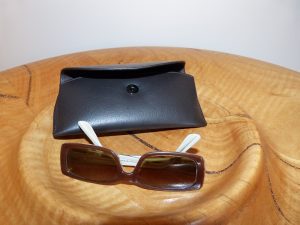 10. Name tag.
Some time ago I saved a name tag I was given at a workshop and keep it in my desk drawer. I try to remember to bring it to events to avoid consuming single-use ones.
11. Glasses case.
Last year I noticed that my old synthetic glasses case that came with my prescription sunnies was decaying, leaving soft, sticky black deposits on the frames where they touched the case. I've replaced it with a new leather case from a fair trade shop. There are plenty available at op shops too.
House contents
1. Furnishings.
Cotton covers for most chairs. Most old and new furniture is made from timber.
2. Floor coverings.
Second hand jute rugs. I'd quite like to get some more for other spaces. I've also been thinking about a homemade cotton rag rug.
3. Yoga mat.
My old synthetic one is twenty years old and decaying in spots. Yuk! I'm surprised that synthetic gear is so common among yoga practitioners, since it's meant to be about holistic health. Anyhow, I've moved onto an organic cotton one, which the dog seems to like.
4. Pedestal fan.
Mostly metal.
5. Sewing machine.
Unfortunately, the vintage Singer does straight stitch only.
6. Light globes.
In cardboard boxes, not plastic packaging.
7. Kitchen bench top.
Ironbark timber. We didn't want to replace the old, worn out, peeling laminate benchtop with more laminate (i.e. plastic).
8. Bed linen.
Our beds are made with organic cotton bed linen and doonas, which I've mostly bought online from Australian suppliers. The products all come packaged in a sack made from the same fabric. If I want my purchase to be packed and posted 100% plastic-free though, I must request that.
9. Thermal curtains.
We refashioned our old polyester velvet curtains into more effective thermal window coverings (with organic cotton doona sandwiched inside).
10. Bamboo door curtain.
No plastic strips in this household!
11. Decorations.
Mostly wood, glass or ceramic. Homegrown flowers. Certainly no balloons, glitter or tinsel!
Clothing
1. Undies.
These aren't mine! I buy ones like them from Blessed Earth; they're made from organic cotton with elastic. When they wear out they go in the compost until only the elastic is left, which then goes in the bin. For many years, I've been thinking about sewing my own from old t-shirts. I might get around to that next year.
2. Socks and tights.
Socks made from wool or organic or recycled cotton, sometimes blended with elastane or nylon, which is another compromise I'm content to make for now. My tights are 100% organic cotton, so they need hitching up now and then. My last pair of lycra tights wore out last year and I won't replace them.
3. Shirts, skirts, shorts, pants and jackets.
Organic, fair trade and fair made cotton t-shirts and coat, hemp shorts, hemp and organic cotton pants. With the relatively small range of organic cotton/hemp clothes available, I've struggled to find ones that fit me well, so I've started making my own. My great plastic indulgence has been several items of synthetic clothing and equipment for sport. My biggest change for this Plastic Free July has been making the commitment to buy no new synthetic sport stuff.
4. Doona suit.
In the process of being home made from an organic cotton doona.
5. Wraps and scarves.
All from natural fibres – cotton, linen, cashmere, alpaca, silk. The only exception is one hand knitted woollen scarf – see next.
6. Knitting needles and yarn.
Tasmanian oak needles from my local knitting shop. I compromised when I chose two skeins of green wool-nylon blend yarn for a scarf. The hue was more my colour than the green 100% alpaca option. Next time, I intend to dye a natural yarn if the colour isn't right.
7. Shoes.
I expected these sandals to be plastic-free. I chose them because the product description mentioned fair trade, handcrafted traditional Abyssinian leather uppers and recycled car tyre soles. In fact, there's a synthetic mid-sole hiding away. At least I tried. J Most of my other shoes have leather uppers, but synthetic soles too.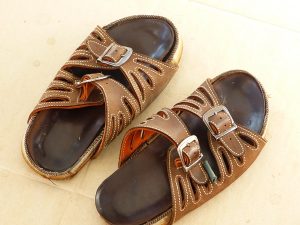 UPDATE: I've since done workshops on making your own boots and making natural leather. Now appreciating the work that goes into both, I'm prepared to pay for a quality boot made from natural ("vegetable" tanned) leather. My latest pair is from Duckfeet.
8. Handkerchiefs.
Organic cotton, second hand cotton or linen. When these wear out, I could easily make some from old shirts or t-shirts. Several times when I've gone out without one, I've accepted the offer of someone else's tissue from a little plastic packet or a box with a plastic window. Now, when I'm putting away the laundry, I put clean hankies in the pockets of jackets, pants, skirts and bags to ensure that I always have one handy.
9. Sunhat.
One of the raffia styles from the Cancer Council Shop.