As local news services close and shrink…..
In my suburb a guy, with tech skills, has launched an online community newspaper.
Moonee Valley Magazine is a FREE online magazine packed with community news and reviews covering activities in and around the City of Moonee Valley and beyond.
It will be published online every Thursday afternoon. Designed for reading on the phone on the way home by train or tram, with lists of up-coming activities to engage with.
The sections are divided into the same interest categories as a mainstream magazine.
In a time of uncertainty, initiatives like this are wonderful ways of supporting community, and add weight and durability to social glue.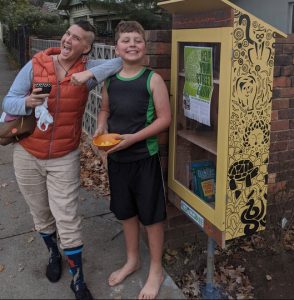 Another Little Library – Jacq and Friend – photo: Teresa Day